ReViewed by Jox
Milan Luthria was a promising director and the minute I saw, Kachche Dhaage, I was sure that this man had the stuff to make it. But when he reteamed with Ajay Devgan again, that too for a romantic flick, I was taken back with surprise.
However the movie failed to show up last year when it was ready and raring to go, since one of the producers passed away. A year later the film finally makes it to the big screen...but by now, the product got so lame, that no one was really willing to give it a shot.
But if you did, you will know that Luthria has managed to dish out a pretty decent romantic flick.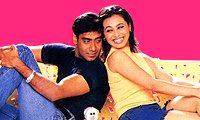 The films premise is basic and simple. It revolves around Ranbir (Ajay Devgun) who work as an architect in a Delhi firm although his entire family is situated on the beautiful hills of Shimla. Ranbirs childhood love is Pooja (Sonali Bendre) and he buys an old villa in Shimla which he wants to rennovate as their dream house and present it to Sonali as their dream home. Sonali rejects Ranbirs offer as she feels that he is not marriage material.
A jilted Ranbir comes across Khushi (Rani Mukerjee). Khushi is a happy-go-lucky orphan who lives life to the fullest. She is bubbly, boistereous and charming whose aim is to make people laugh and smile everywhere she goes.
After being evicted from her flat and getting fired from her job Khushi ends up at Ranbirs house in Shimla. There she gets mistaken for being Mrs Ranbir Malhotra by Ranbirs entire family (Khulbhushan Karbandha, Kamini Kaushal, Tiku Talsania, Smita Jaykar et al). When Ranbir comes to know what is happening, he thinks of this as an perfect opportunity to win Pooja back by using Khushi to make her jealous. Khushi and Ranbir decide to play a game where they pretend to be a couple and even pretend to get engaged...
Slowly both discover that they have fallen in love with each other..what happens next? Who does Ranbir choose in the end..Khushi or Pooja? CHORI CHORI forms the answer.
Luthria did surprise me with this romantic flick that seemed so ordinary for most of its reel time, but had me engaged also. Luthria went about his work and the screenplay wasn't making the mish-mash mistakes that such movies usually end up making.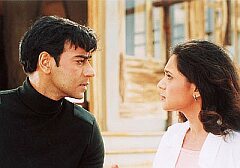 And the real star of the enterprise and the reason for having the viewers engaged is undoubtedly Rani Mukherjee in one bubbly performance. Rani brings in enough energy to keep the love story bubbling all throughout. She is the real 'kushi' of the film and without her the film simply wouldn't have been the same. Rani Mukherjee's role for those who don't know is a complete take-off on the role played by Sandra Bullock in While You Were Sleeping.
However the film begins to slow down and get sluggish when the character of Kushi becomes all love-struck and emotionally heavy. So with Rani getting all sober, things get bad for the film too. The result is a rather disappointing second half that really pulls things down. Not to mention, one song too many in the second half.
Another problem with CHORI CHORI is the fact that I just could not see the chemistry between Ajay and Rani. They simply did not have that going on screen. Actually there was a better chemistry between Ajay and Sonali.
Ajay Devgan however has put in a decent show and the role does not demand him to go out of the way. The role is specifically written for him and he has no problems becoming himself. Sonali though is billed as a special appearance, definitely have an extending supporting role here and definitely looks fabulous.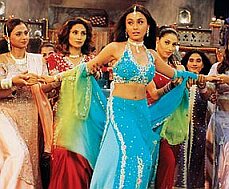 The supporting cast however is a problem. Though Luthria brings in a whole family to go with things and make it a completely big family environment, I would say that the rest of the cast is wasted. Be it Kulbushan, Satish Shah, Tikku, Smita Jaykar, none of them rises to the occasion barring Kamini Kaushal as the granny.
Yes, the film does look a lot jaded technically too. Not the kind of glossy romantic flicks that we are being treated to today. Even the Satish Shah sequences haven't been properly dubbed yet. But the film does stay afloat most of the time, thanks to the sensitive handling of the subject by Milan Luthria.
Music department has relatively average songs. But exceptional from the lot is Aate Aate, the song was great a year back and even now it is melodious as ever.
CHORI CHORI for most of its reel time was a commendable romantic flick, but not good enough to take it to exceptional heights thanks to the lack of the chemistry between the leads. But hey, it still remains as good as the other Rani starrer CHALTE CHALTE if not better..