At one time CHORI CHORI was a highly anticipated movie. Milan Luthria who earlier directed the slick and hit action dhamaka KACHCHE DHAAGE was back with his second venture. Joining him again was Ajay Devgun who seems to be at his best at the moment and growing stronger and current numero uno Actress Rani Mukerjee who was also on a high after the success of SAATHIYA and CHALTE CHALTE. Despite the disastrous boxoffice status of the movie CHORI CHORI remains a watchable film which is thoroughly enjoyable on DVD.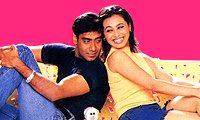 The films premise is basic and simple. It revolves around Ranbir (Ajay Devgun) who work as an architect in a Delhi firm although his entire family is situated on the beautiful hills of Shimla. Ranbirs childhood love is Pooja (Sonali Bendre) and he buys an old villa in Shimla which he wants to rennovate as their dream house and present it to Sonali as their dream home. Sonali rejects Ranbirs offer as she feels that he is not marriage material.
A jilted Ranbir comes across Khushi (Rani Mukerjee). Khushi is a happy-go-lucky orphan who lives life to the fullest. She is bubbly, boistereous and charming whose aim is to make people laugh and smile everywhere she goes.
After being evicted from her flat and getting fired from her job Khushi ends up at Ranbirs house in Shimla. There she gets mistaken for being Mrs Ranbir Malhotra by Ranbirs entire family (Khulbhushan Karbandha, Kamini Kaushal, Tiku Talsania, Smita Jaykar et al). When Ranbir comes to know what is happening, he thinks of this as an perfect opportunity to win Pooja back by using Khushi to make her jealous. Khushi and Ranbir decide to play a game where they pretend to be a couple and even pretend to get engaged...
Slowly both discover that they have fallen in love with each other..what happens next? Who does Ranbir choose in the end..Khushi or Pooja? CHORI CHORI forms the answer.
In terms of a story the film offers nothing new. The story here has been witnessed time and time again. The film holds a striking resemblance to Deepa Mehtas BOLLYWOOD HOLLYWOOD which had a near identical plot. What makes the movie watchable is the lead performance of the two key characters, their performances and the chemistry they share.
In terms of a screenplay the movie could have been tighter. Although the first half is well done, the second half falters a lot with a sluggish pace and a overdose of songs which hinder the films pace.
As a director Milan Luthria has again proven that he is a gifted director. Sadly CHORI CHORI has gotten slightly stale over time, and that effect shows on the film. But despite the delay CHORI CHORI comes across as a fresh project for the most. After a action flick in KACHCHE DHAAGE, Luthria proves that he is just as capable of directing an romantic venture. He extracts commendable performances from his entire cast and directs the romantic scenes with utmost care and sensitivity. His rapport with Ajay Devgun certainly shows on the bigscreen. One just wishes that Luthria avoid cliches next time he makes a romantic flick and adds some new twists and turns. The movie is a outright clean entertainer with no vulgarity, crude humour or violence at all.
Luthrias next venture is the multi crore action venture DEEWAR-LETS BRING OUR HEROES HOME with Amitabh Bachchan, Sanjay Dutt and Akshaye Khanna. Wish him all the luck!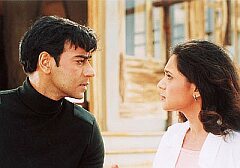 In terms of acting the entire film belongs to Rani Mukerjee. She literally lives the role of Khushi and brings the entire movie to life with her lively one-girl-act! Rani is without a doubt a seasoned performer, and this is her best performance with SAATHIYA(better than CHALTE CHALTE). She is at ease in the emotional and romantic sequences, but where she scores high marks is in the comic scenes as she proves to be a natural.

Ajay Devgun after some challenging performances in THE LEGEND OF BHAGAT SINGH, DEEWANGEE, and BHOOT comes up with a restrained performance. This role is without a doubt a cakewalk for him and he makes it look easy. He seems disintrested for the most and his character never manages to strike a chord with the audience as Devgun usually does. His chemistry with Rani Mukerjee is crackling and Devgun is at ease in comic scenes.

Sonali Bendre in a short cameo is OK. She looks absolutely G O R G E O U S and is it great to see her sexy smile back on the screen, damn this girl is gorgeous!!!!! Her acting is nothing to write about.

The supporting cast in the movie range from great to below avergae. Khulbhushan Kharbandha, Kamini Kaushal and Smita Jaykar are all praiseworthy. Rest of the cast do their jobd accordingly. The characters of Sadashiv Amrapurkar and Shashikala seem out of place and they weren't needed in the movie at all.

Technically the film is good. Nirmal Janis cinematography is breathtaking and the stunning locales of Shimla have been well captured.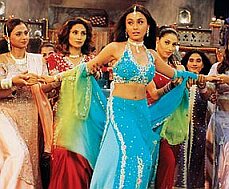 Sajid Wajids music ranges from OK to excellent. The title track, the wedding song are great, but the best of the lot is AATE AATE which has a mesmerising effect on the viewer. The song is excellent!! ROOTE YAAR and KEHNA HAI are easy on the ears though they can be easily chopped from the movie as they interfere with the films pace and are uneeded. All the songs are well picturised and give the movie color.
All up CHORI CHORI is a watchable and entertaining romance film..a genre iam not a huge fan of. Iam surprised i enjoyed the film(the last romance film i enjoyed this much was REHNA HAI TERE DIL MEIN) and the credit must be given to Rani Mukherjee and Ajay Devgun for their sizzling chemistry and director Milan Luthria.
In saying this-CHORI CHORI is as cliched and a formula film which offers the industry nothing new at all, but compared to most of the other junk churned out by Bollywood, CHORI CHORI ranks ahead and fans of Rani Mukherjee and Ajay Devgun won't be disappointed.
7 outta 10