Sunny Deol is back in what he does best, that is the action roles where he comes with the required punch. And his latest release, CHAMPION also does not disappoint you in that note. But Sunny isn't the reason for that!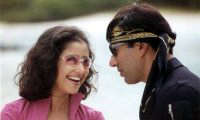 But Sunny over here is not the tough guy you saw him in Ghatak or Ziddi or his countless other action movies. And that could bore even the diehard Sunny fans.
Here is rather a simple guy, Rajveer Singh, hailing from the village of Patiala with high hopes of making it as a big cop with laurels. But his first assignment as a cop happens to be that of protecting a young boy Abbas. And thus a man who dreams of wiping out criminals and terrorists is suddenly transformed into a nanny of sorts.
But the kid that he has to protect is no ordinary kid. Abbas happens to be the only son of a rich industrialist and since his parents get killed in a plane explosion, his life is too in big danger.

And the danger to the kid? Well, it happens to be Nazir (Rahul Dev) who is out to seek vengeance for the tragedy that struck to his family. And now that he has managed to successfully get rid of the parents, he shall only find peace on eliminating the child.
But things are not happy at cop Rajveer's side. He has problems with the rich brat kid from day one. And to make it worse are Abbas' group of pals led by a close friend and model Sapna (Manisha Koirala).
But then as the movie progresses, you have a bond being formed between Rajveer and Abbas. Sapna also shapes up to be the expected love element.
But Nazir is on the heels of the child, and Rajveer turns slick and watchful and keeps the assassin away. But for how long?
The initial reels does not give you much hope with the movie seeming to become another average fare. And thus the first half, you have some forgettable songs and scenes that kinda made the movie more of a children's entertainer rather than a pure action flick.
But it is the second half that really manages to do the trick. Good scenes, with action packed sequences which kinda gets you hooked back to the going ons.
But I really wished Anu Malik could come up with a better score. If the songs were slightly better, I would have definitly rated this movie higher. All the songs, except for the title song, are a pain to sit through. But Aadesh Shrivastava's background score is definitely much better in comparison.
Dialogues are just average, while Tinu Verma's action is noteworthy.

Rahul Dev is mindblowingly impressive!
Now as far acting department is concerned, Rahul Dev steals the show in every way. Great expression and body language really made him a treat to watch. He really managed to invoke the fear of a stalker, and is definitely a great debut for this man. Director Padam Kumar has was clever to avoid giving the man unnecessary dialogues and instead cashes on his looks and physique.But with those unconventional looks, let's hope he does not get stuck with plain ol' villain roles.
Sunny Deol is also good and puts in the impact where required. Master Abishek's performance as Abbas is very mixed. While some scenes he really excel, in many others he disappoint. And Manisha is just wasted in other inconsequential role.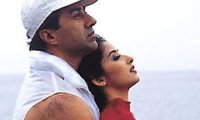 CHAMPION is certainly worth a watch, especially the later half and the credit for that lies majorly on the shoulders of the debutant Rahul Dev. Because without him, the movie could have easily passed off as another disaster.
Write in and tell us what you think of this movie