ReViewed by Akshay Shah
Director late Anant Balanis last project finally comes to the fore. Sadly the director passed away a few days after announcing the movie, the film sees the light of day as Sudhir Misra brings Balanis dream to celluloid. Misra adds his own nuanced touch to the movie and CHAMELI springs a surprise as the first decent flick of 2004!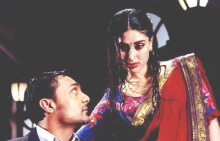 The film revolves around Aman Kapoor (Rahul Bose)-a investment consultant who has recently lost his wife Neha (Rinkie Khanna) on a rainy night due to an accident for which he blames himself.
While driving around on one rainy night Amans car breaks down in front of Mumbais Flora Mountain. He is left with no choice but to take shelter at the fountain until he can find a mechanic to start his car.
Under the shelter he meets Chameli (Kareena Kapoor). Chameli is a hardened prostitute who works the streets at night.
Although Aman keeps away from Chameli at first....slowly and subtely the come closer in the most unusual ways....
Aman gets himself involved in the street life and gets himself entangled into a sticky situation of sorts.....And to think it all started as a rainy night....
Screenplay by Shiv Subhramanium and Sudhir Misra is well done for the most. The film moves at a slow pace, but never bores the audience as it slowly starts growing onto the audience as they feel themselves getting more into the story as it progresses. Although nothing much ever happens in terms of events it is the realtionship that develops between the two protagonists which proves to be the films badckbone.

As a director Sudhir Misra has experimented the concept of "it all happened in one rainy night" before with ISS RAAT KI SUBAH NAHIN and made a cult classic of sorts there. Here the concept is also the same although CHAMELI doesn't quiet reach the heights of his earlier efforts. He has maintained true to Anant Balanis concept of the movie.Despite the fact that the film is set in one night and at times is very talky, Misra manages to captivate the audiences attention throughout. His trump card is the interaction between Chameli and Aman how a bond develops between the two. Although the two are from completely separate worlds....they slowly begin to trust and understand each other...

Although the film isn't as hard hitting as say MANDI, BAZAAR, or CHANDNI BAR there are certain scenes in the movie that are gut wrenching-mainly the scene where Kareena tells about how she first got into this line...

Compared to his last effort CALCUTTA MAIL which was letdown due to a hopscotch screenplay-CHAMELI definetly ranks higher.

Performances in the movie are great!

Rahul Bose as Aman plays his role to a hilt. The role isn't that much of a challenge for him considering his act in THAKSHAK and MR AND MRS IYER and he is a natural throughout.
The film no doubt belongs to Kareena Kapoor!! Those who thought this girl couldn't act will be proven wrong here. Gone is the annoying superficial performances she gave in YAADEIN, KHUSHI, KABHIE KHUSHI KABHIE GHAM, MAIN PREM KI DEEWANI HOON etc, here as CHAMELI she comes up with a natural and convincing performance doing what she has never been able to do before-become the character she is playing. Although its a bit hard to believe at first that Kareena is a sex worker off the streets, the manner in which she plays her character is just brilliant! I found her performance to be a lot better than Manisha Koiralas in the recent MARKET, but not a patch on Taboos classic performance in CHANDNI BAR. The language she talks.....the manner in which she smokes her cigarettes....her body language....Kareena gets it all on the dot! She does miss the mark at times since a role of this nature demand a certain amount of rawness, but for the most gets it right. A sincere attempt by Kareena Kapoor and definetly her best to date.

The supporting cast do their jobs accordingly and don't have much scope. Rinkie Khanna has minimal scenes in a flashback role and leaves no impact. Yashpal Sharma leaves a mark in his role and plays his part with effortless ease. Makrand Deshpande is OK and has limited scope. Kabir Sadanand is a natural in his part.

Technically the film is good. Aseem Bajajs camerawork is great. Bajaj captures the movie on cellulouid like a poetic painting with the rain playing a symbolic part in the movie.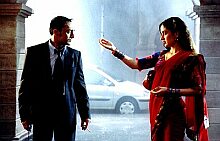 Dialogues by Swanand are rude and crude-just how they should be in a film of this nature. Those delivered by Kareena Kapoor are natural to the core and has the required rawness.
Sandesh Shandilyas tunes are goods, but one feels there is no room for songs in this movie as they hinder the films consistent pacing.
All up CHAMELI may not be everyones cup of tea and its definetly not the usual romance tale...but for those who prefer a intelligent talky movie which is a commercial fare with a element of artiness to it..CHAMELI is definetly worth a dekkho!
7.5 outta 10