Chameli was a dear project of director Anant Balani, but unfortunately he met an untimely demise. But hopefully he should be pretty content with how replacement director Sudhir Mishra has taken over the command of this ship. Not that Mishra has done a brilliant job, but yes...he hasn't ruined anything much either.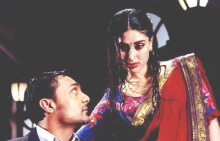 In the life of Aman Kapoor (Rahul Bose), rain plays an important life. It did once before, which resulted in a tragedy that he is still trying to overcome. And it shall play another important role, this night too when he will encounter a lady...
The lady in question is a street prostitute Chameli (Kareena Kapoor) who has gone through a lot of pain herself but have managed to overcome all that.
So fate had it that Aman's car should break down in front of South Mumbai's Flora Fountain and as he waits patiently for a mechanic in the rain, he bumps into the last person he wants to meet at that moment, the prostitute Chameli.
How the two characters, poles apart, in every sense come together and how a bond is created between the two by the time dawn breaks is very much what the film is all about. It turns out to be a long night that involves the pimp, the cops, and haunting memories. But in the end, it does bring a change to both the lead characters in a way or two.
Two characters poles apart come together to find a bond being created between them and surprisingly it hardly had anything sexual about it. Hmm, the last time I saw that onscreen, I was like here is an interesting theme that you hardly find it in Indian Cinema. And thus I was all praises for the movie, Mr & Mrs Iyer.
Well...now unique it certainly is not..because now a year later Rahul Bose stars in yet another tale of two contrasting strangers come together due to...well, blame it all on fate, I suppose. And for director Sudhir Mishra here is yet another 'it happens all in one looong night' concept which he did successfully tackle in Is Raat Ki Subah Nahin.
And it now seems that a prostitute is a 'prestigious' role to grab now to prove an acting point to your critics, especially after Tabu walking away with great praises in a film like Chandni Bar. Kareena looked only happy to be part of this offbeat film from day one.
But Chameli, is certainly NO Chandni Bar, NO Mr & Mrs Iyer and NO Is Raat Ki Subah Nahin either. But again, I am not telling CHAMELI is a bad film.
To a great extent, Chameli is well-made...slow paced but well done. But the problem is that there is nothing much happening exactly to make the night as memorable as it should have been. A lot of characters are thrown in maybe to get something going, but the truth is that extra event was missing.
Neither was there any smartness in the way the narration unfolded as everything was so well laid out, and everyone knows where we are heading. Night falls, dawn breaks, comes next day morning. The films story also went in that way.
I am not sure how the director intended, but it looked like Sudhir Mishra had this big 'surprise' for us or something at the end about Rahul Bose's character and his past. But it was so obvious from the initial reels...and so when Rahul Bose's character narrates his part of the tragedy to Chameli, we are like ..."Yeah, so what else is new?"
But from whatever little ingredients that was on offer, I think the makers have churned out a pretty good product, with pretty good performances and a screenplay that makes us sit up and take notice.
Performances- they were good enough. Kareena Kapoor's step into some hardcore acting isn't exactly bed of roses though. She have got a lot of the things right starting from the look to the mannerisms. However for every good dialogue that she delivers, she follows it up with a very fake laugh that ruins the impact. So I guess the real problem was that Kareena was trying to act, and it did show a lot. It just did not look plain and natural. I should agree that a Tabu or a Nandita Das would have slid in better into the skin of the character that Kareena had to handle. But let us say, Kareena has done a good job even if it lacked that extra 'perfection' bit.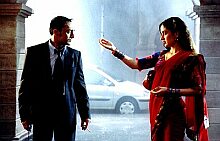 Rahul Bose as usual looks comfortable in the character and does a great job of it. Probably he was playing out a character that was written with someone like him in mind.
Yashpal Sharma was good in his short role and though Markand Deshpande did not have much to do, it was just nice to watch him perform onscreen.
The real highlight of this film was definitely the music which was soulful and absolutely brilliant stuff. Agreed that the songs really does not create an impact in the movie, and not all the songs are actually featured in the movie. But the whole soundtrack from Sandesh Shandilya is definitely some good work that should not go unnoticed.
Also going into my 'note this guy' list of technicians go Aseem Bajaj who has done a terrific work of the cinematography. The sound department was also technically ace, but the realistic dialogues had a lot of chopping done which seemed a little too hard on the makers.
It is advisable for those who have an allergy to such 'slow-pace' flicks to stay away from it all. But if not, then CHAMELI is a decently packaged small film that is surely not going to take much of your time, if as a compromise, you do not expect much from the other side either.