Shahrukh is back after a break...with his own home production Chalte Chalte, directed by co-partner Aziz Mirza.
So though all eyes are on Dreamz Unlimited's Chalte Chalte, it should be noted that so far none of the Shahrukh' home production has achieved any success - be it Phir Bhi Dil hai Hindustani or even the much-expected Asoka. But will Chalte Chalte change the tide for SRK ??? I guess not.
Chalte Chalte is a movie where everyone involved have played it safe - rather too safe, I should say. No one wants to be daring here and all take the tried and tested formula all the way.
There is a notable scene where a lovelorn drunkard (Johnny Lever) keeps singing - "Le Jaayenge Le Jaayenge Dilwala Dulhaniya...." and inspite of Shahrukh asking him to move on, the drunkard still sings this song. For Shahrukh, things seems to be pretty much the same. He still makes attempts to move on with a better romantic flick but nothing hardly seems to be good enough for the generation that fell in love with DDLJ at first sight.
Priya and Raj, two sides of a coin, Different as chalk and cheese.
Raj (Shahrukh) is impulsive and is the happy-go-lucky guy trying to get his truck business, Raj Transports, up and running successfully. However Raj finds himself going head-over-heels over Priya (Rani Mukherjee) in the very first meeting itself. And after a cross-state truck ride back home, Raj thinks he has found his dream gal. But by the time Raj meets Priya for the second time, he realises that she is off to Athens for her engagement with her childhood pal Sameer (Jas Arora).
But Raj refuses to let it all go. So he immediately packs his bag and is off to Athens and before you know it, he is on a romantic European tour with Priya. And by the end of the tour, Priya realises that she cannot live without Raj. Ultimately Raj wins his love and so they get married.
But exactly a year later, things aren't as cosy as it were once upon a time. Now Raj is so busy with his business that he hardly seem to have the time for his wife or for anything romantic. All the promises he once made seem to be a thing of the past. Add to that an inferiority complex that always makes Raj think that he cannot match up to the lifestyle of Sameer. Things only get worse when things go financially downhill for Raj.
Ultimately Raj sees everything falling apart and he makes a last-ditch effort to save both his business and his marriage. How successful can he be?
Director Aziz Mirza who previously directed Shahrukh in Raju Ban Gaya Gentleman, Yes Boss and Phir Bhi Dil Hai Hindustani tries to get another movie woven around ordinary men and their rather ordinary hopes and dreams. This time however the product from the SRK-Mirza duo is hardly anything to be excited about. It is in no way a fitting SRK vehicle nor is it the blockbuster material.
Don't get me wrong- Chalte Chalte isn't a bad film. There is a sincere attempt at making a simple and good film. But Chalte Chalte has absolutely nothing new and original to provide to the average cinegoer.
First of all, I knew this movie was beginning to look a lot like Saathiya from every angle. But Shahrukh-Aziz Mirza surprised me. The movie not only had a strong Saathiya-influence, but also shades of Dilwale Dulhaniya Le Jaayenge and Hum Tumhare Hain Sanam.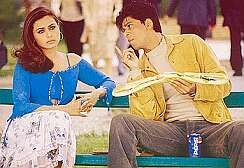 After a bumpy opening start, the pace and the story picks up only once when Shahrukh is off to Greece to win Rani. Though it reminded me a lot of DDLJ, I did not mind sitting through yet another one of those.
But then some things were mind boggling. Shahrukh falling so madly in love with Rani over just one meeting, and how far he goes to win her. Though Rani seems to be practical and sensible, it is quite strange to see that she does not do much to discourage this guy nursing such passion for her. And just before the engagement, she suddenly goes through a quick change of hearts? The rich father had absolutely no problem in letting his darling daughter go off and marry this truck owner. The rich-poor status symbol only emerges as an issue much later in the movie. Till then they refrain from playing that card. So the minute Rani ran into the arms of Shahrukh without any household opposition, I knew that this film was going downhill from here on.
The second half is filled with the usual fights and arguments we expect a married couple to go through. And commendably, the fights aren't as silly and without substantial reasons like Saathiya. But eventually it goes way too long and boring for anyone's good. The film should have been trimmed by a lot.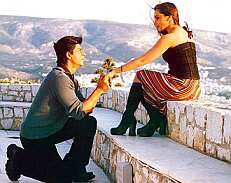 And when everything goes right down the line upto the cliched ending...I wish Chalte Chalte had a better screenplay to take it home. The scene where Priya walks into her house in Greece leaving Raj heartbroken was a strong one. Similarly another good scene was the one that leads to Priya walking out. But such scenes are few and rare.
Shahrukh Khan is eventually what is going to bring in the crowds and he is what makes the crowds stay in there. And thankfully for most of the running time, he manages to do a great job. But he still seems to be trying a little too hard when it comes to the comedy scenes.
Rani Mukherjee really puts in a wonderful support to the super star, and is a treat to watch. She definitely also provides the chemistry and makes a better on-screen pair with SRK than Aishwarya. Rani is definitely at her best during the emotional sequences.
None of the other characters seemed to be well-sketched. Though Aziz Mirza throws in a lot of potential characters, none of them really makes an impact barring ofcourse the traffic cop and Johnny Lever in a restrained performance as the drunkard. Other actors like Satish Shah, Lilette Dubey, Suresh Menon all seem to be terribly wasted or underutilized. Also I did not like the fact that the love story is being narrated by a bunch of Raj's friends who hardly seem to be a part of Raj's life at all.
While Saathiya always stood tall and strong thanks to a great score, Chalte Chalte's music by Jatin-Lalit ranges from very ordinary to likeable. But nothing that can get you hooked forever. The cinematography though is impressive in the songs.
But when I hear reports of this movie being made at an expense of 25 crores, I am left scratching my head trying to figure where all the money was thrown into.
But at the end of it, after watching movies like Raja Hindustani, Akele Hum Akele Tum and Saathiya...Chalte Chalte is hardly anything different or innovative. So much so that I would prefer to watch the Ashton Kuthcer starrer Just Married rather than sit through Chalte Chalte again. And I never thought I would be saying that for this SRK starrer.
At a time when daring and different movies seems to be clicking in a big way, such age-old marriage tales will tumble way faster than you think. Chalte Chalte would probably at its best do a rather average showing like Hum Tumhare Hain Sanam. Anything more isn't exactly deserving.
Chalte Chalte works in bits and pieces, from here and there. On the whole it is quite decent- but a very average product in comparison to what we get these days. Keeping your expectations rock bottom would be a good idea.