Sudhir Misra who is most well known for his offbeat dark thrillers IS RAAT KI SUBAH NAHIN and DHARAVI now attemtps to take a stab at commercial cinema with adding his own touch. The film has been in the making since 1998 and went through several name changes including WAAPSI and RAKHT after finally settlign for the intriguing CALCUTTA MAIL. Sadly, Misras first foray into commercial cinema turns out to be a disapointment despite a magnificent array of actors and fine tuned performances.
The flick is a remake of the super-hit Chiranjeevi starrer CHOODALANI VUNDI. The film revolves around Avinash (Anil Kapoor) who arrives in Kolkata in search of someone..
He finds residence in a chawl where he bumps into Bulbul (Rani Mukerjee) who he is forced to share his room with. Slowly Bulbul gets attracted to him..
Avinashs search leads him to Ghatak (Saurabh Shukla) a local pimp who knows the whereabouts of the man he is searching for...Lakhan Yadav (Sayaji Shinde)-a well known psychotic gangster from Patna who is said to have fled to Kolkata with Anil Kapoors son.
Day after day Avinhash searches for Lakhan yet in unable to trace him despite a few false alarms. One day Ghatak backstabs Avinhash and tells Lakhan everything about Avinash and his whereabouts. In a surprise fight between Avinash and Lakhan-Avinash is stabbed twice and left to die....
As Avniash slowly regains conciousness in a hospital we learn via a flashback about Avinashs past...

We learn about Avinashs chance encounter with Sanjana(Manisha Koirala) who is the daughter of a rich and corrupt politician Sujan Singh(Satish Kaushik). Sujan Singh wanted his daughter to marry the slimy goon Lakhan Yadav but Sanjana was dead set against it. Against her fathers wishes she runs away and marries Avinash and they even have a kid.

Alls going well until Avinash arrives home one day to find that Sanjana has been brutally murdered and his son has been kidnapped! Through his cop uncle Rastogi (Shivaji Satam) Avinash finds out that his son has been taken to Kolkata hence begins the search...

Does Avinash manage to recover? Does he manage to track his son down and take revenge upon Sujan Singh and Lakhan Yadav? These questions and more form the crux of the movie.

In terms of a story the flick overs nothing novel. A film of this nature has been witnessed before in Bollwyood cinemas enough times and the story reminds one of a regular commercial 80's potboiler if not for the treatment by Sudhir Misra.

Misra who writes the screenplay with Saurabh Shukla and Ruchi Narain are OK. The inital sequences are engrossing, yet the film falters in the second half. One also fails to understand why Lakhan Yadav kidnaps Anils son? What was his ultimate motive? And the suspense at the end revealing Manishas real killer wasn't as convincing as it could have been either....

Sudhir Misra's direction elevates the film from a regular fare to a watchable film and his direction is sensational. Like his dark and brooding ISS RAAT KI SUBAH NAHIN, Misra uses some of the same techniques as used there. The ambience and atmosphere created in the movie is flawless to say the least. The nail biting chase sequences, the eye opening train sequences, and the cat and mouse game between Avinash and Lakhan have been perfectly captured and are some of the best chase scenes ever witnessed on the screen

The movie is dark for the most and it certainly give the movie the look of a film noir thriller. As with ISS RAAT KI SUBAH NAHIN, Misra has given the feel that the movie is a journey of a man and how he completes his mission.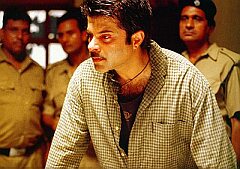 Though Misras direction in the first half is brilliantly executed, he falls short in the second half. The unwanted songs do not gel in the movie at all and hinder the films pace, also the Manisha Koiala flashback drags on unecessary lacking the required punch. Seems like Misra doesn't know how to successfully strike a balance between commercial and realistic cinema, one wishes that Misra had gone for an out and out realistic approach. Although the characters and performances all come across as very real, as do some scenes, the constant army of goons, the every minute body count and the climax all get too hard to digest after a while and the film loses grip.
Performances are the mainstay of this enterprise!
Anil Kapoor was the perfect choice for Avinash. He brings a lot of depth to his character, and looks smashingly intense in the dramatic sequences. His emotional scenes also strike the desired chord with the viewer, and Anil cannot be faulted at all! Its great to see Anil give a powerful, engaging and hard hitting performance after a long time and it is a complete change from his ARMAAN performances and reminds one of his acting in Munna in TEZAAB. The raw intensity is still very much there! In saying this, his performance here isn't as good as say PUKAAR, VIRASAT, or even OM JAI JAGDISH.
Rani Mukerjee gives a cheereful and bubbly performance as Bulbul. Her comic interactions with Anil are well canned. Yet another competent performance in Ranis kitty, although this one may not be as good as SAATHIYA or CHORI CHORI she still manages to leave her mark.
Manisha Koirala in a short role is great. It is great to see her on the bigscreen after such a long time. She looks great here and gives a good performance given the length of her role.
The powerful and talented supporting cast do not disappoint. Sayaj Shinde is smashingly brilliant as the sadistic and brutal Lakhan Yadav. His eyes ooze pure evil and Shinde plays a role that he is at ease with. It ranks alongside his performance in SHOOL and DAMAN as a great villanious one.
Satish Kaushik springs a surprise as Sujan Singh. Known for his comic antics, Kaushik delivers a excellent negative performance, he is first rate. Kaushik is a true veteran. Saurabh Shukla is good in a type cast role. He suits the role he plays. Shivaji Satam is OK.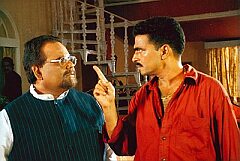 Technically the film is FANTASTIC putting it lightly. Ravi Chandran cinematography is simply amazing. After VIRASAT and DIL CHAHTA HAI, Chandran has yet again given award winning cinematography. The streets of Kolkata, the train station, and all the Durga Poojas and Yatras have been captured brilliantly as has the dark and brooding mood of the film
The action and chase sequences in the movie and gripping and tight and have a lasting impact.
Ample credit must be given to the Late Renu Saluja and her FLAWLESS editing. As witnessed in 1942 A LOVE STORY, PARINDA, ARDH SATYA and many other flick Saluja was a genius....here she is in top form!! The editing is slick and sharp.
A downfall to the movie is the films music. Viju Shah and Anand Raaj Anands music don't go well with the movie at all. A serious and intense flick of this nature should have relied on a strong background score and no songs, but sadly in Misras attempt to go commercial he has decided to add the routine song and dance sequence which take away from the films realism and slacken the films pace. Anil Kapoor happily dancing in overseas locations one minute in designer clothes, and then back to Kolkata looking for his son don't gel at all!!:S?. Earlier Govind Nihlani(Another art director) had decided to make a commercial fare his style with the Ajay Devgun-Rahul Bose starrer THAKSHAK and Nihlani was completely successful IMO. Nihlanis use of songs were good and added to the films story, maybe Misra could take a hint or 2 from there when he decides to make his next commercial venture.
All up CALCUTTA MAIL is a watchable film for its engrosssing first half and the smashing performances by Anil Kapoor, Satish Kaushik, Sayaji Shinde, Manisha Koirala and Rani Mukerjee.
But BE WARNED that CALCUTTA MAIL is a film which has more than its share of flaws and those who are expecting a modern-day-classic from the talented Sudhir Misra will be HUGELY disapointed!
7 outta 10