Anu Gaekwad, Sheila Bardez and Rina Kaif are three big time models and thick fast pals. So in one of the many catfights, the three decide to take revenge on a rival model and settle the scores on the ramp itself. However things get out of hand, and in the scuffle, hundreds of diamonds, meant to be smuggled immediately to Dubai, breaks open and falls onto the ramp and into the hands of the audiences, paparazzi and the celebrities watching by.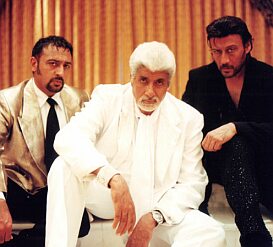 But the diamonds disappearing like that means nothing but trouble. For starters Abdul 50/50 (jackie Shroff) was supposed to be in charge of smuggling the diamonds out of India that night and it had to reach kingpin Bade Mia (Amitabh) in Dubai by the very next day. The in between guy happens to be Medium Mia (gulshan Grover).
Now these underworld characters believes that it is these three models who can get back the diamonds, or else...

So what follows is the trio of models trying to outwit the underworld baddies . All rules and logic are thrown out of the window when the Fashion World sets a date with the underworld.


 Oh God….do anyone expect that this is the 'international' stuff that is going to put Indian cinema on the global map?? Oh pleeaze! This is nothing but a sleaze fest which clearly shows that the Gustad had only one thing in his mind while he was doing this film – sex, sex and more sex!
Welcome to BOOM – an daringly explicit Indian film, from the makers of 'Bombay Boys', that have only time to make ''pervert' jokes. IF you though Bombay Boys was about a bunch of sensible boys getting entangled in a insane world of Bollywood film making – you gotta check this out- because here,  Gustad throws out that sensible part and what you are left is with an insane wacky world – underworld without depth, and fashionworld without a taste.
So what's the story man?? Don't ask me…and I think don't ask Kaizad Gustad is going to help either. Maybe Ayesha Shroff, who was willing to throw in the dough for this project will know better.
But if you are just expecting a wacky look at these two worlds that I mentioned before – then, yes it is wacky enough with some really truly funny moments. And thankfully, Amitabh Senior is there in most of the 'stand out' sequences like the one where he attends the call of a guy he just shot, when he does toy shopping for the kids, and eventually when he meets with the kids and ofcourse the much talked about 'Bo Derek' sequence was also worth a laugh, though it was too short a dream sequence. The best oneliners however are reserved for Javed Jaffery, or it may be just that he delivers his lines in such a way that he make an instantly funny n witty one liner out of his lines.
Also Guztad gets his point across by putting a Bollywood style song sequence in one of the most nuttiest portions of the film. That was also funny, till I realized – wait a sec, this is actually getting to be a full fledged song!!!
But then – that is the best way to describe this film – the makers have gone 'overboard' with the whole idea.
The movie looks and talks vulgar, when the same thing could have been done with much more grace and with a better script. Funny, for most parts it is, but then that's about it. Otherwise the film is like lots of disjointed sequences all forcibly strung together, and then forced together with a hurriedly rushed climax sequence. Wasn't definitely worth it.
Ok then the acting, since this is one movie that supposedly boasts of a great cast. So let me make things clear – the stars of this film are the trio of girls – Madhu Sapre, Katrina Kaif, and Padmalaxmi. The movie is entirely about them, the focus is also entirely on them…and their assets. So you have these three models trying to do their acting bits with as minimum clothes as required. Obviously, I know that these three can barely act, but surprisingly these three have put together a decent act. (Maybe its just because they just have to be themselves…or the truth be told, I was distracted by their boobies). Now who is the better one among the lot is hard to be said…but after the movie, probably the best question to be asked is – who has a better set of um…ahem…
<![if !vml]>
<![endif]>Ok, moving on…Amitabh Bachchan has a small role, you might say. But then again Gulshan Grover and Jackie Shroff have even smaller. So that makes AB sequences appear extra-large in the final count. And Bachchan has done a great job as usual in this unusual character. Like mentioned before, he has some of the more brilliant sequences in the film, and I think it was a great role to his list, but one certainly wishes that it was in a better film.
But I have no idea what Gulshan Grover, Jackie Shroff and Zeenat Aman where doing in these small teeny-weeny roles that does not provide them with any scope whatsoever.
The real stars of the enterprise however, is Javed Jaffery and Seema Biswas. Jaffery as 'Boom Shankar' is a laugh riot and comes up with some extra wacky lines. Biswas also puts in a real good show as the maid of the three girls.
By the teasers and trailers, everyone knows that this film ain't the kind you can watch with your folks at home. And I think you shouldn't tag your girlfriend along, if you wanna sit and oogle and these females. The class audiences are going to find the film too 'vulgar and out of class' for viewing while the frontbenchers are hardly going to get excited over this 'too hot to handle' product. Who did Kaizad Gustad make this movie exactly for? Could that person please stand up?
Mind you, not a total waste of time. I suggest a DVD rental, get some guys and beers along and sit through it. If the film lacks the ooze, atleast you had your share of the booze!