Anu Gaekwad, Sheila Bardez and Rina Kaif are three big time models and thick fast pals. So in one of the many catfights, the three decide to take revenge on a rival model and settle the scores on the ramp itself. However things get out of hand, and in the scuffle, hundreds of diamonds, meant to be smuggled immediately to Dubai, breaks open and falls onto the ramp and into the hands of the audiences, paparazzi and the celebrities watching by.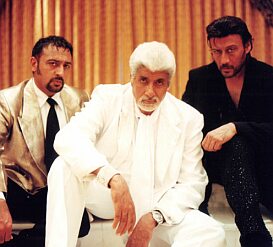 But the diamonds disappearing like that means nothing but trouble. For starters Abdul 50/50 (jackie Shroff) was supposed to be in charge of smuggling the diamonds out of India that night and it had to reach kingpin Bade Mia (Amitabh) in Dubai by the very next day. The in between guy happens to be Medium Mia (gulshan Grover).
Now these underworld characters believes that it is these three models who can get back the diamonds, or else...

So what follows is the trio of underworld baddies trying to outsmart the trio models . All rules and logic are thrown out of the window when the Fashion World sets a date with the underworld.


For bade saab Amitabh Bachchan, its nothing short of a whole new world. For the first time he tries his hand at one of those 'Indian english flicks' more famously known as the Hinglish genre. But this is definitely one of the most star studded films of this so called genre. And the addition of Big B to it was more than enough to make this movie HOT property in the market.

The cast also just gets a lot more impressive with Jackie Shroff and Gulshan Grover coming in as the other two underworld figures, playing out and out wacky figures. And speaking of wacky, it is literally impossible to go all wack-out without mentioning the zany Javed Jaffery.

And if you just thought only the guys are hot, then wait till you check out the gals. Leading from the front is once- ever-so-stunning Zeenat Aman who is here to show the right way to sizzle. And then we have three big time models Madhu Sapre, Katrina Kaif and Padma Laxmi, more famous for her relationship with the controversial author Salman Rushdie.
Also a major highlight sequence of the film is Bo Derek's special cameo emerging out of the beach in a dream sequence just like she did when she made the guys drool over her years back in the Hollywood comedy, 10.
Forget the cast, a little also have to be told about the director Kaizad Gustad. He broke into the limelight with his Bombay Boys three years back. And for those who think the film wasn't over the top enough, then this time things will be just that.

Music keeping in with the insane mood of the film is scored by Talvin Singh with extra funky background score from Sandeep Chowtha