Bhoot is a film that I had no problem describing in one word – disappointing!

Being a Ram Gopal Verma flick, I obviously had my expectations sky-high. But when I could see the brilliance in the man even in projects that went wrong (like Daud, Mast), his latest spookie Bhoot showed me rather the lack of it.
With Bhoot, Ramuji tries to toy around with the horror genre. And mind you, this isn't a new genre for the man but it certainly ends up as his weakest effort in the list. To begin with it isn't as gripping as the psycho-thriller Kaun and nor is it as spine-chilling as Raat (atleast not content-wise even though Bhoot betters in the technical department).
Vishal (Devgan) and Swati (Urmila) is a happily married couple who decides to move into this new apartment. But this particular flat is a bhoot-attached flat. In other words, in it resides a disturbing past- the previous occupant had plunged to death from the balcony, and people now claim it to be possessed.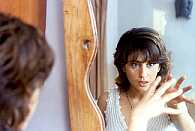 But Vishal is in no mood to pay heed to such ghost stories, and decides to move in. Swati, on the other hand, has no clue about the flat's past, and is quite happy with their new home.
But things slowly get bad with the nightmares that Swati begins to get. A series of them, and it begins to disturb Swati real badly, that pushes Vishal to seek help - of any kind.
Throw in a cop, a rather shady watchman, an eerie maid and a host lot of other characters and you get a spooky thriller from the house of Ram Gopal Verma.
As the reel starts, I was all geared up in excitement and the opening note from the director hit the nail. And then followed an equally impressive opening title sequence, and I was very much sure that Ramu knew exactly which part of the seats he wants his audience to be in. The initial reels did set the right mood and ambience for a perfect spooky thriller. But then I saw it all crumble….there is scenes after scenes showing the same things like Devgan driving in, driving out, the lift going up and down. Trust me, they all mean nothing at the end.
And then the second half, Ram Gopal Verma seems to be having a different script altogether. So he brings in all the characters possible and rushes through things in a jiffy and before you know it, its all neatly wrapped up!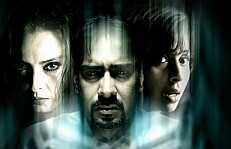 But my biggest complaint is that I did not get the jump-out-of-my-seat sequences that I was looking for. Except a few (very few, mind you) here and there, the spook-o-meter hardly rose high and that was a cause of worry. To spook thy audience is a talent, and somehow Varma (undoubtedly the best director of mainstream Bollywood) fails to deliver in that department. Maybe a little more study at the School of Spielberg/Shyamalan might help. Look at how well Shyamalan could bring it out even in a suspense sci-fi like Signs. I failed to see any of that spark in Varma this time around.
Ramu can go ahead and bend or rewrite every rule in the book associated with horror flicks. But there is one rule – "Silence is Golden!" and that is something that should never be tampered with. Here Ramu went a step ahead and gave the background score department to the long haired duo of Salim-Sulaiman. And they are whom I will point my fingers at for messing up Bhoot eventually by cramming in noises and voices of all kinds at the drop of a hat. Unnecessarily overdone music spoils the initial sequences to a great extent.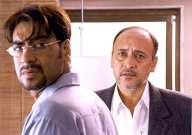 But the real plus point here is the ability of Ram Gopal Verma to get this much out of a lacklustre script like this. Add to it the wonderful cast that Verma has assembled. The best part is everyone is given just itsy-bitsy roles but all somehow fits into the puzzle quite well.
Urmila's acting as a lady possessed was A-grade and can be put up there along with the gems she displayed in Kaun and Pyar Tune Kya Kiya. And this is definitely the frontrunners for the performance of the year, because she does a damn convincing job here.
A rather tired-looking Ajay Devgan ends up with most of the screen time, and he decently walks through his role. The rest of the pack only shows up towards the interval point and though all of them have very small roles (cameos, in fact), they all do a great job. Nana Patekar plays the cop on the murder scene and surprisingly is the one providing the comic relief here. Seems Biswas and Tanuja hardly had anything substantial to do while Victor Banarjee and Rekha comes up with strong characterisations. Fardeen Khan also puts an impact in a short-n-sweet cameo.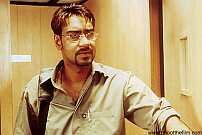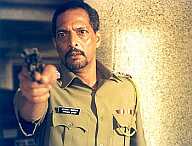 But alas…Bhoot might be a rather impressive horror flick in Bollywood …but for me, it just failed to live up to my hopes. But who cares…while the awesome products like Satya and Company did not open up really well throughout, Bhoot (one of Ramu's weaker offerings) have taken a great start all across India. Infact, it seems to be heading to become the second blockbuster for Ramu after Rangeela.
Well, if the audiences are lapping it up, who am I complain??