BOLLYWOOD CALLING
cast: Pat Cusick, Om Puri, Navin Nischol
Directed by Nagesh Kukunoor
Nagesh stormed into the film scene three years back with his low-production movie, HYDERABAD BLUES turning into a phenomenal success and probably the movie that kicked off a series of such-low budget Hinglish movies like Bombay Boys, ABCD, Dollar Dreams, SNIP and what not!
Nagesh did return last year with his second venture, ROCKFORD, about a boy and his boarding school adventures.
Now he comes with another movie, this time with the Indian movie industry as its backdrop. Certainly the movie already has similarities with that of Bombay Boys. And one has to wait and see if Nagesh can bring about any major difference to the whole thing.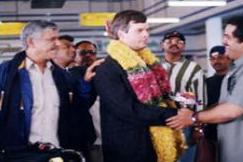 An unlucky American actor Pat (Pat Cuscik) lands up in India thinking he could give it a shot at Bollywood. And thus he is cast in a movie alongwith a so-called legendary Indian actor in a film to be produced by a typical filmi producer Subra (Om Puri).
The rest of the movie does highlight the usual set backs anyone in the industry has to go through before bringing a movie to the big screen. Well, the refreshing performance of Nasserudin Shah in BOMBAY BOYS is still fresh in our heads. Let's see whether veteran Om Puri can better that.
Like ROCKFORD, director Nagesh Kukunoor has also ensured that there is a good music score to back him up
Let's hope the talented young director can come up with another winner with BOLLYWOOD CALLING, especially when the big makers of Bollywood themselves can't get it right.