Indian cinema often has the effect on viewers where it makes the audience cry....no just a few teardrops, but literally evoke emotions to no end and make the tears roll....B.R Chopras BAGHBAN is one such film! Although BAGHBAN does have its fair share of flaws, it certainly isn't a film to be missed as it is one of the most emotional films i have witnessed in recent times...to add to that Amitabh Bachchan gives one of his BEST performances in his post MRITYUDAATA phase.
The idea for the film was concieved years ago by B.R Chopra who wanted to cast Dillip Kumaar in the starring role.
BAGHBAN is the story of Raj Malhotra (Amitabh Bachchan) and his wife Pooja (Hema Malini). Raj and Pooja have been happily married for the past four years. Raj works at a bank job from 9-5 and is near the verge of retirement.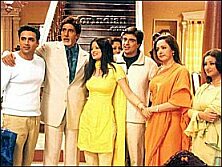 Raj has a huge family which consists of his four sons (Aman Verma, Samir Soni, Nasir Khan and Salil Chaddha). Raj considers them to be his pillars of strength and doesn't save anything for his retirement as he feels that his sons will support him after he retires and spends his entire savings on his sons.
Finally the day comes and Raj retires.. he proposes the idea to his children that he now wants to catchup on the quality family time he has missed and wants to stay with his children..
But little to Raj's knowledge none of the children want to take their parents! After a small meeting the sons come to the conclusion that Raj will stay with the second eldest son(Samir) and Pooja with the eldest (Aman). Raj is distraught at this idea...the thought of separating from his beloved wife is too much for him to imagine and this is not what he had in mind for his retirement.
Due to Poojas persistence Raj agrees and he is separated from his beloved....
Upon reaching their new respective homes Raj and Pooja both realise that their children have no respect for them at all. They look upon their parents as burdens and mistreat them.
Raj makes friends with a local music cafe owner Hemant Patel (Paresh Rawal) and his wife (Lilette Dubey) and slowly they become a integral part of Rajs life due to their warmth and kindness.
Raj also has an adopted son overseas Alok (Salman Khan). Alok was a orphan who used to polish shoes on the street until Raj had taken him as one of his own kids. Alok lives and breathes for his parents and worships them more than god. After finishing his studies Alok heads back home to his parents with his newly wedded wife (Mahima)
On the other hand with each growing day Raj misses his beloved more and more...the separation hurts him to no end and Pooja too is not happy with her new residence where she is shown no respect at all by her new family and is treated worse than the maid...
How Raj and Pooja finally reunite forms the crux of the story.
The story by Dr Achla Nagar has been witnessed many times before and has shades of many moves such as AVTAAR, SWARG and ZINDAGI. But it is the manner in which it is directed that makes a difference. Also the manner in which some of the scenes have been penned have a touch of realism to them.
Director Ravi Chopra shows his mettle here as a director with a subject which he is clearly at ease with. Right from the very first frame Chopra knows what he is doing. He is good at the light and comic sequence in the first half and depicts the love between Raj and Pooja very well...but its the emotionally charged second half where he shows his true trump card. Scene after scene Chopra packs a emotional punch like no other which will have even the hardest of men weeping. His direction is not without flaws though. One feels that the portrayl of the sons was a bit too over the top at times which makes it less realistic. Also the excess of songs in certain areas and the hotel room sequence drag the film longer.
Where Chopra really succeeds is creating a love story which tugs at the heart strings...a love story about a married couple who even after 40 years of married life love each other just as much...who live and breathe for each other...who cannot live without each other. The manner in which the love story has been bought onto the screen is the true trump card of the movie alongwith the MINDBLOWING performance by Amitabh Bachchan and Hema Malinis dignified performance.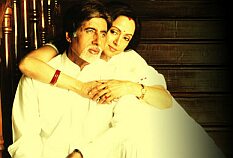 Some scenes which will linger in the viewers mind after the film finishes will include

* The meeting the four sons have and who will keep the parents and upto when

* The scene where Amitabh and Hema both separate for the first time...the use of eyes here is brilliant.

* The scene where Amitabh Bachchan breaks and Lilette Dubey read the letter to him-that sequence and the one where Bachchan tries to read the letter will have draw tears from most people as it is one of the most emotional scenes i have ever witnessed.

* The scene where Hema Malini goes to the night club and brings her grand daughter home.

* Hema visiting Aman at his office and the argument that follows

* ALL the interaction scenes between Paresh Rawal and Amitabh Bachchan and last of all Amitabhs speech in the finale which deserves a standning ovation as it is outstanding. These scenes alone make the film a MUST SEE!
On the acting front the entire movie belongs to Amitabh Bachchan. If KOI MIL GAYA was Hritik Roshans movie all the way then BAGHBAN is Amitabh Bachchans movie inside out! In nearly each and every frame Bachchan is there and his screen presence is as electric as ever. Even though Amitabh has played the head of the family before in films like EK RISHTAA and KKKG-this is indeed his most indepth and well developed role and Amitabh is simply outstanding. Never have i seen so much energy in a man of his age and be it his dialogue delivery, body language, expressions, dancing and singing Amitabh Bachchan LIVES the role of Raj Malhotra and brings it to life. His performance will make you laugh....and make you cry-that is a promise. Without Amitabh Bachchan there is no BAGHBAN and indeed this is his best performance since AKS and is bound to bring him a few BEST ACTOR nominations.
Hema Malini gives a very mature and subdued performance. It is great to see the dreamgirl after such a long hiatus and she still looks as young as ever. Looking stunningly gorgeous at her age she puts most of the younger actresses to shame. Her chemistry with Amitabh Bachchan is simply outstanding and one forgets while watching the movie that they are not husband and wife. Thats how natural they are. Their tender moments together are indeed golden moments. Just witness the scene where Hema Malini goes into the nightclub to back up her grandaughter.......the lady sure has a LOT of talent still left in her.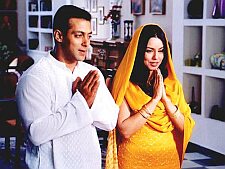 From the supporting cast Paresh Rawal is a standout as always. Playing a role of a Gujrati that he is at ease with Rawal provides some of best comic moments in the movie and his comic timing is flawless as always. His scenes with Amitabh Bachchan are a treat to watch and the AANKHEN chemistry is still evident.

Salman Khan in a extended cameo leaves a mark. After TERE NAAM he plays a role of a son too good-to-be-true and whats more he plays it with conviction. He is extremely restrained and sober here and his emotional sequences are extremely natural which is a surprise. Mahima Chaudhury is wasted in her role of no substance.

From the sons Aman Verma leaves a mark with his role of the eldest son. Samir Soni also plays his part well although his looks arent very camera friendly. Suman Ranganathan as one of the daughter-in-laws is average although she looks HOT onscreen. The casting of Rimi Sen as Suman and Amans daughter is VERY unbelieveable. Divya Dutta is leaves a impression in her b*itchy role. Salil Chaddha and Nasir Khan have no scope to perform. The rest of the cast do their jobs accordingly and support the lead pair well be it Sharat Saxena, Asrani, or Mohan Joshi.

Technically the film is good. Barun Mukerjees cinematography is slick and capture the ambience of the movie well.

Adesh Srivastavs music is surprisingly great. Although it didnt leave an impression on first listening, after watching the picturisation it grows on you. This is one of the first albums in a LONG time which has the BACHCHAN stamp throughout and that works very well to the films effect.

The HOLI track, CHALI CHALI and and MAIN YAHAN TU WAHAN are the pick of the lot. The picturisation of these songs are rememberable and it is mindboggling to watch Amitabh Bachchans steps in CHALI CHALI and the HOLI track......his dancing is still FANTASTIC and I cannot believe how much energy and zest the Big B still has in him. The Salman Khan track could have easily been deleted and the title track is used in good effect as it comes in various stages of the movie.

All up BAGHBAN is a MUST SEE for all. Although it does have its share of flaws, the film has to be seen for Amitabh Bachchans spectacular one man show which alone is worth the price of the ticket as with some of the emotional sequences mentioned. For fans of Amitabh-BAGHBAN is a MUST OWN on DVD when it comes out

8.2 outta 10

THE PANEL ROOM
| | |
| --- | --- |
| Filmfare 2/5 | The story is bit stale, as it is based on lines similar to the Rajesh Khanna-Shabana Azmi's starrer of the late 80s - 'Avtaar'. It has a very predictable story, right from the beginning. |
| Indiafm 2/5 | Despite the comparisons and the feeling of déjà vu, BAGHBAN rises to the occasion. The emotional quotient in the film is enough to overcome all shortcomings. |
| | The length of the film and the loose screenplay hampers his vision to some extent. But to his credit, it is after a long time, one witness a film, which has complete family values. |
| 3/5 | Despite a tacky look and extra soppiness, the film is worth a watch – thanks mainly to Amitabh, who gives one of his best post-'90s performances. |
| | The film belongs to Amitabh Bachchan and Hema Malini. Although the story was conceived 30 years ago, Baghban seems tailor-made for Bachchan. He is wonderful. He sings, dances, romances, cries and makes you cry. |
PANELROOM SCORE: 3/5
X-tremely Good: 0 Positive: 3 Mixed : 1 Negative: 1