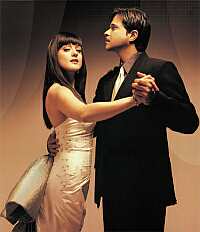 What we have over here is certainly one of the first biggies of 2003- and definitely a hot one all over. It had everything going for it - a great cast and crew, the talents of Honey Irani and Javed Akhar at the writing board, and also some great music from the Shankar-Ehsaan-Loy trio.
But somewhere down the line, it all does not sum up to what it should have been. It isn't going to be another Dil Chahta Hai from the Akhars in any way. Instead what Armaan eventually turns out to be is a decent piece of quality cinema. Not a masterpiece, mind you....just a decently well made piece of entertainment.
Armaan revolves around basic human emotions and relations all set in a medical backdrop.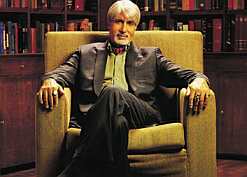 Meet Dr. Sidharth Sinha (Amitabh Bachchan) who has just one dream in his life- to upgrade his hospital to something more state-of-the-art hospital to treat the needy all alike. And he has pinned all his hopes now on his son Dr Akash Sinha (Anil Kapoor).
Also take your time to meet the new doctor in town - Dr. Neha Mathur (Gracy Singh). It does not take much time for Akash and Neha to strike a chord and love is all around.
Also meet chance. A chance meet with a rich stubborn gal Sonia Kapoor (Preity Zinta) is going to change Akash's life forever. And circumstances and fate results in a tragedy, forcing Akash to make some of the most difficult of choices, including one to sacrifice his love and instead marry Sonia Kapoor. And that takes us only to the interval point!
Honey Irani with the help of Javed Akhtar comes up with a decent screenplay and script, but sadly it is very ordinary. Coming from Javed Akhtar I expected a little more better writing, but the dialogues hardly seemed anything above the average or the norms.
Then the biggest problem with Armaan is the failure to really get going in any genre. The film, though it tries, does not quite live up to that great 'mature' love story feel. And all the hopes of it becoming a father-son bonding saga fizzes out way too early itself. And is it then a medical thriller - well, you get more tensions and thrills watching an episode of Chicago Hope or E.R if that is what you are looking for.
The first half is really well-paced with a lot happening by the time we reach the interval point. But the second half is where the film begins to sag. Well, it does not disappoint exactly but ends up tame in comparison. Obviously expected the screenplay to be more challenging and stronger. However things go rather soft and convenient. A little more hard-hitting stretched out climax would have been what the doctor ordered rather than this soft one that we get in this film.
Quite contrary to pre-release hype, this definitely is not an Amitabh movie for a change. He shows what he is worth in the first half. But his appearances in the second half is nothing but irritating to say the least. But that one scene in the back seat of the jeep, is all that is enough for me to show you how cool the Big B is onscreen.
So then is it an Anil Kapoor film? Well, Anil is certainly the focus of the proceedings. And he does not disappoint at all. He gives his best all throughout and shows that he is still very much there in this industry. Anil excels a lot in some of the more demanding emotional sequences, especially the ones where he narrates his past and realises the reasons why his father stayed unmarried all his life.
Randhir Kapoor is average in his big comeback role, but thankfully he does not play it like the stereotype rich bad father!
But if this film is anybody's- then it is the ladies' who walk away with those credits. Gracy Singh comes out exceptionally strong and likeable dominating the first half. In an industry where actresses get real lousy roles, Gracy once again gets a strong role to deal with as a follow up to her debut show in Lagaan. And if its Gracy's show in the first half, then there is no stopping Preity Zinta in the second half. She steals the show completely giving all her life into her over-the-top character. I don't know the rave about Ash or Bipasha being the current numero actress, but when it comes to Preity, she definitely knows how to deliver the goods.
The film is technically sound and well made. At times though cinematography and the sound recording does go awry, but not really bad enough to spoil the good work put in by the crew. But one thing that definitely is A grade in this film is the soundtrack from Shankar- Ehsaan-Loy. All the songs are melodious and easy on your ears.
The film that evokes mixed feelings. Like the strong first half has a tame second. Like for every good Big B's wig, there is an equally horrible Preity Zinta wig. But all in all, definitely one of the better movies to have come in Bollywood for quite some time. Its respectably decent, mind you!