Raj Kanwar have tried his hand at several of the masala flicks and in every possible fashion. Somehow Kanwar seems he can take the same ol' rehash storyline and still come up with something that looks refreshing enough.
This time though Kanwar took a Kuch Kuch Hota Hai of sorts and turned it the other way round and voila - there he comes with Andaaz.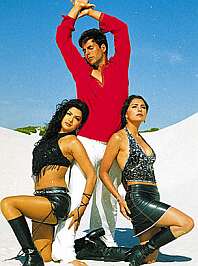 Raj (Akshay Kumar) and Kajal (Lara Dutta) are childhood friends and spends most of the time together around the college campus. But behind all this friendship, is the secret love that Raj nurtures for the tomboyish Kajal.
So when Raj fulfils his dreams of becoming an Air Force Pilot and returns to stake his prize, he find that Kajal is now all set to marry her ideal man Karan Singhania (Aman Verma).
So Raj decides to move on and that is when Jiya (Priyanka Chopra) walks into his life somewhere in foreign shores. Soon Jiya goes all out to woo Raj and just when Raj finally agrees to give into her demands- Raj discovers more than he should have. It happens so that Karan died in an accident and Jiya is none other than his sister. This new alliance brings Kajal once again back to Raj's life and the love triangle takes a full bloom.
Akshay Kumar still manages to create an impression despite being sandwhiched between two sexy ladies, both fighting it out for the viewer's attention.
AS far as the heroines are concerned, obviously they are the ones that is making this film buzz it out there in the heat. Though Lara Dutta shows promise especially as we get towards the end, it is Priyanka Chopra who really steals the show in the second half. Obviously both look stunning as they are expected to, and they try to make sure that they reveal all of their talents and assets possible in their debut itself. But that leaves the audiences extremely happy, doesn't it??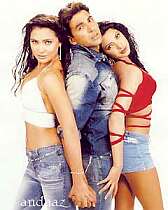 A poor script is what fails to make Andaaz live up to any of its pre-release hype and it is high time that these kind of scripts come to a halt. Ekta Kapoor anyways is doing a good job of twisting the same thing here and there, on the small screen. So why bother?
Once again the duo of Nadeem-Shravan comes to the rescue of the Darshans with their respectably decent soundtrack. However the sales of the music would suggest that it has done much better than the kind of business it should have. Nadeem-Shravan does it somehow and I still haven't figured how!
Suneel Darshan might not have worked wonders with his own films but atleast this time getting Raj Kanwar to do the job for him seems to have worked to a certain deal. But then again, no matter how much plus factors are thrown in, ultimately Andaaz has nothing new or original to its credit barring the two ladies ofcourse.
Andaaz is a decent Bollywood product, but then again there is nothing worth recommending it for a second viewing after you done through the first one.