Sapna (Amisha Patel) is a girl stuck in her own house thanks to her business tycoon father Dholakia and her brother (mukesh Tiwari) resulting in Sapna unable to enjoy life to the fullest. How would you expet that especially when you have armed gaurds to escort her everywhere.
But it is when Sapna meets Rohit (Hrithik) during the dandiya session that she discovers what life beyond her four walls is all about.
Then it becomes a tale of how Rohit and Sapna can eventually emerge victorious in their love they have for each other amidst a scenario like this.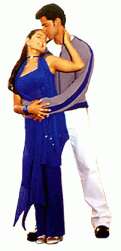 It would be shocking to know that here is a movie that was actually launched around the same time as the launch of Kaho Na Pyaar Hai. But Hrithik got himself busy with the bigger projects like Fiza, Mission Kashmir, Yaadein and K3G, not to forget his marriage in between all this.
So Vikram Bhatt played the waiting game and got it wrapped up thankfully atlast.
Hrithik Roshan needs this hit to prove that to justify his superstar status, and it is interesting to note that except for Kaho Na Pyaar Hai, he has had no major success except for K3G.
I thought Hrithik was the best dancer, but I realised that there is one dance that he can't pull off easily...and that is the Govinda-style dance he has attempted in one of the songs in the movie. Looks so much uncomfortable doing it!
Bottomline...will Aap Mujhe Achche Lagne Lage be anything like Kaho Na Pyaar Hai?