Hmm...two of the finest actors in the industry today, two of the most beautiful and talented heroines we have today, a theme different from the usual run-of-the-mill stuff, great production values, and one fine music score by Anu Malik to the lyrics of Gulzar...this is what I call the perfect recipe for a blockbuster.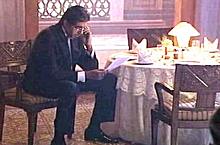 But sadly that is not the case for director Rakesh Mehra, for his debut venture AKS, co-produced by Amitabh Bachchan himself, just goes on to prove that an ad-film maker can be nothing but a bad film maker. For Rakesh Mehra makes a mess from a position from where not many people could go wrong.
AKS in other words had all the making of a blockbuster but it has terribly gone wrong.
Though one claimed it to be a desi version of FACE/OFF, I now really wish it was a straight copy of it. Atleast that would have fared better.
This one is rather more inspired from the movie FALLEN, a movie that deals with the evil spirit of a serial killer using other bodies to do his crimes. And then there is also those face mask technique, popular thanks to MISSION IMPOSSIBLE.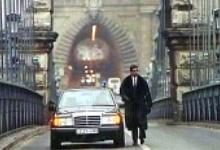 THE STORY
The story kicks off in Budapest, where police officer Manu Verma (amitabh Bachchan) is in charge of the security for the Indian defence Minister. But soon, an assassin manages to knock off the Defence Minister dead and get away with the prized floppy disk.
We are introduced to the assassin, a psycho killer Raghavan (Manoj Bajpai) who manages to succeed with the help of the rubber face masks he use.
And then on, it is a battle between the cop Manu and this killer Raghavan who keeps daring the cop to capture him. However, it finally ends with Raghavan being nabbed.
In prison, Raghavan is sentenced to death, and Manu Verma promises to save him from it if Raghavan is willing to give the floppy back. The meeting ends up with both Raghavan and Manu pointing their guns at each other, and in the heat of the moment, both pulls the trigger simultaneoulsy.
We find that Manu Verma manages to survive the shot, but Raghavan is dead.
But from then on things are not normal for Manu. For he begins to act strange and feel weird. Soon we realise that he is possessed by the spirit of Raghavan, and this spirit manages to get the better of Manu and uses Manu's body to do all the evil deeds.
And thus it is a supernatural thriller with the battle of good vs evil taking place within one's head!
WHERE THINGS WENT WRONG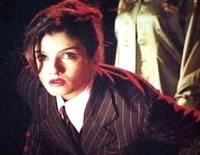 The second half is grim, dark and kinda boring and it all builds up to nothing much.
The climax is utter crap and one of the worst in recent times. This weak climax is what pushes down the movie from "watchable" to "just mediocre".
The fact that Manoj Bajpai's character dies by interval and post-interval it is more of a one man show from Big B. Manoj Bajpai's character is not used to the full potential.
Amitabh fails to make a clear distinction as he switches between the two characters of Manu and Raghavan. Both his co-actors as well as the audience gets confused as to Big B's true identity. Something even Jim Carrey could not pull off easily in his comedy "ME, MYSELF and IRENE."
Out of all the possible ways to proceed the story from the interval point, it looks like director Rakesh Mehra opted for the worst and most unconvincing of twists.
And the Bhagvad Gita quote just is repeated over and over and over, as if there was no other dialogue on that script!
And several of the other dialogues also are quite disappointing. Listen to the dumb lines that Raveena-Bajpai tells when they get all romantic and you will know what exactly I mean!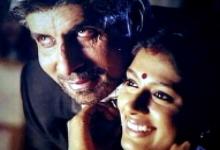 WHERE THINGS WENT RIGHT
The cast is real good. And all of them have done their roles to their best of the abilities. Besides Bajpai and Big B, even Raveena and Nandita Das makes the best of whatever little they have.
High production values, a slick look throughout, top class cinematography and action, and even the choreography of the songs are really impressive.
A superb soundtrack from Anu Malik - Ranjit Barot team spiced up with lyrics from Gulzar.
A first half of the movie is rather gripping on comparison to the boring second half and therefore makes the movie atleast watchable and even enjoyable initially.
F I N A L V E R D I C T
AKS is a bold step forward in style and technique, but unfortunately it still is like any other Bollywood flick when it comes to the most important factors - story and screenplay. The movie lacks terribly in both these aspects.
The movie is hardly gonna make any impact at the box office and both Amitabh Bachchan and Manoj Bajpai have to look elsewhere for their pot of gold.
For Aks Sucks...or atleast nothing extraordinary to cheer about!!
What a shame! What a crime!