Abbas-Mustan is a director duo that have managed to pull off some big feats indeed.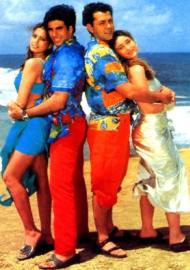 They kicked it all of with one of the finest thrillers made in Bollywood - KHILADI. Remember the movie was a big hit despite having newcomers -Akshay and Deepak Tijori. Then they roped in another new face then, Shahrukh, put him in a baddie role in BAAZIGAR, and the rest as you know, is history.
They followed it up with DARAAR, SOLDIER and even the recent CHORI CHORI CHUPKE CHUPKE was a well-made flick.
So when they claim that their new project AJNABEE is a take off on the Kevin Spacey starrer CONSENTING ADULTS, not many would doubt the director's talents in pulling it off.
But sadly, if they come up with a rotten screenplay and still feel no need to cut on their biggest drawback - those loud and unnecessary comedy scenes with Johny Lever at the heat of the action, nothing can help them out.
Simply putting, their good run seems to be finally over with AJNABEE turning out to be a big dud!
THE STORY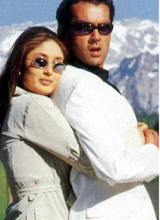 Bobby after just a couple of meetings marries his lady love, Kareena and is off to Switzerland on a honeymoon spree.
Here they meet another couple, Akshay-Bipasha Basu. And soon the foursome are songing, dancing and enjoying their holidays together.
However the twist comes with Akshay popping the question to Bobby about "swapping wives". A shocked Bobby is forced to bash Akshay. Though things do get settled between the two, Akshay brings up the same damn suggestion again at a party.
Next day a furious Bobby Deol tries to confront Akshay once again, but realises that Bipasha has been murdered and Akshay is accusing of Bobby of doing the crime.
Well, if Bobby hasn't done it, then who has?
WHERE THINGS WENT WRONG
Forgive me, but the directors are really trying to touch a bold theme of "wife swapping" over here. For that is not at all the theme of the movie, and this whole thing is just a few lines and sequences suggesting the whole thing.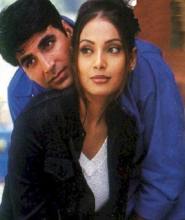 There is nothing thrilling about this thriller. The kind of gripping screenplay you expect from a movie of this kind is nowhere to be seen.
The first half is just full of light situations and a whole lot of songs thrown in with nothing substantial going on.
And then if you think the second half is gonna be anything great like the interval point suggests, you are wrong again. Again when the happenings where supposed to be tight and edge-of-the-seat stuff, you are given more dumb comic scenes and loose dialogues.
The whole crappy mystery is out in the open shortly after the second half begins, and Akshay's oh-so-mastery masterplan fails to surprise you.
The cast simply fails to live above the script. Bobby is just ok. Akshay Kumar tries to get away with the dark shades, but sadly the script does not support him enough to walk away with any glory.
Kareena is there with nothing much to do. Bipasha is also just average in her debut role.
The supporting cast is simply disappointing. Johnny Lever is again in a rather loud role.
WHERE THINGS WENT RIGHT
Good promos, with heavily cashing in on the music score with Adnan Sami's MEHBOOBA being the cherry on the cake, is sure to have paid off. The end result is Ajnabee opening to a record 100% opening.
Has a impressive line up of stars, but what can they deliver?
Besides that, nothing else seemed to be remotely right for the movie.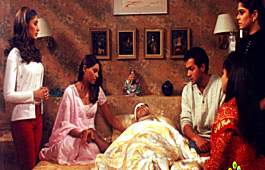 THE BOTTOM LINE
The movie is a disappointment in all counts. Neither is it a strong thriller nor does it have the much-hyped "wife-swapping" theme going for it. Even as an average flick it is simply a dud.
Abbas-Mustan's this attempt have somehow backfired, and no - Akshay's negative character is not gonna do wonders like it did for Shahrukh. Sorry!