ReViewed by Akshay Shah
Vikram Bhatt is back yet again with another thriller! After a disastrous run last year with INTEHAA and FOOTPATH both biting the dust without any hoopla Bhatt strikes back with another thriller hoping to set the boxoffice counter jingling with a thriller that promised to be more "thrilling" than his KASOOR and RAAZ! Bhatt for the most succeeds but the film loses credibility as the story doesn't leave much to be desired for.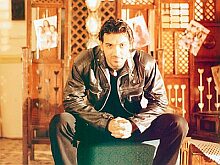 The film revolves around Dr.Malhotra(Amitabh Bachchan)-a caring father who has already lost his son in a accident hence is very protective of his daughter Ria(Bipasha Basu) Ria has always been a obedient girl who loves her father very much until Aryan(John Abraham) enters the picture...
Aryan is everything that Dr Malhotra wouldnt want for Ria-wild, obsessive and theres something about him that Dr Malhotra feels just isn't right!
Ria on the other hand falls head over heels for him and feels that her father is just being paranoid and overprotective.
Aryan only has one aim in life...being in love with Ria! Nothing else matters to him and he will go to any lengths to make sure Ria is his.
That is until Dr Malhotra stumbles across deep dark secret....a secret that involves Aryans past and his paranoia is put to rest. The rest of the movie deals with a clash of ideologies between Dr Malhotra and Aryan which soon leads to a cat and mouse thriller and ends in a blood soaked fist fight..what is Aryans dark secret? and who wins Rias love in the end?
In terms of a story writers Robin Bhatt and Vikram Bhatt have done nothing new except cope the Holllywood film FEAR(Mark Wahlberg/Reese Witherspoon) and indianise the whole concept. The sad thing is that Vikram Bhatt had earlier directed the exact same story with INTEHAA(Ashmit Patel/Nauheed Cyrusi) and one wonders why he made the same film again? The proves to be a major downfall for the film but on the other hand INTEHAA was a film that not many have seen....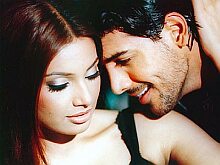 The only difference between the two is where INTEHAA failed to keep the audience on thrilled on their seat for the duration of the film...AETBAAR succeeds due to some taut direction and ace performances!
Screenplay by Sanjeev Duggal and Robin Bhatt is OK. The film starts off on a slow note only to pick up momentum slowly. When the film does pick up pace it manages to keep the viewer enthralled throughout right to the end.
As a director Vikram Bhatt is in form. There are many who don't appreciate his brand of cinema as he copies a Hollywood hit and translates it to a Indian setting and has made a entire career out of it from FAREB, KASOOR, RAAZ, GHULAM, AWAARA PAAGAL DEEWANA to INTEHAA! At times he succeeds in entertaining the viewer with a thoroughly enjoyable and thrilling film while others he falls flat completely and comes up with a disaster...AETBAAR falls into the earlier category.
For a thriller one can easily predict what the outcome of the next scene is going to be and there is not much left upto the viewers imagination but the manner in which Bhatt directs the film which elevates the film to a certain degree.
Certain scenes are extremely well canned in the first half and these include
* The sequence where Aryan visits Dr Malhotra and his family for the first time! The interplay between Bachchan and Abraham is fantastic here
* The scene where Dr Malhotra learns of Aryans past through a newspaper cutting and their subsequent confrontation
The second half tends to get a bit slower and the cat and mouse thriller between Bachchan and Abraham is fairly predictable hence loses its certain degree of credibility...nevertheless there are two scenes in the second half which are also well handled..
* John Abrahams flashback where we find out what really happened to his father
* The entire climax sequence!
Both these sequences bring goosebumps to the viewer and have a definite chill & thrill factor to them.
There are also a number of loopholes in the movie which one finds hard to digest! After being strangled and slapped by John, Bipasha still continues to see him which is found extremely strange! Couldn't she tell that there is definetly something up with him?
The performances in the film are the main trump card in this enterprise.
Amitabh Bachchan as Dr Malhotra delivers yet another flawless portrayl! He is extremely convincing in his role and no doubt when it comes to histronics there is no one like Amitabh Bachchan. He elevates the most ordinary scenes into something else and plays his part with PERFECTION! The performance may not be as challenging as AANKHEN, KHAKEE or AKS yet Bachchan makes the most of it and adds another feather in his kitty!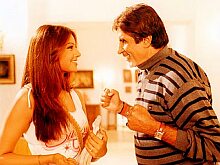 John Abraham in his third outing is ASTOUNDING! He performs the role of a demented and mentally unstable person with such ease and proves yet again that he is THE most talented newcomer to come out of Bollywood in a while. The manner in which he plays his complex role one finds it hard to believe that this boy is only 3 films old. Right from his get-up...to the long sprawled hair across his face....to the piercing eyes...Abraham is PERFECT in his role and shows that he is able to make the transition between a prettyboy hero to a psycho demented character with versatility! Can't wait to see more of him in Pooja Bhatts PAAP-THROUGH SIN SHE FOUND LOVe later this week! A definite contender for BEST VILLAN 2004!
Bipasha Basu is good in her part. A lot better than some of her previous performances including ZAMEEN and ISHQ HAI TUMSE. She plays her part well and is pretty good in the emotional scenes. Her chemistry with Abraham is sizzling on the screen.
The supporting cast in the movie are OK in what little roles they have...considering the 3 principal characters hog all the footage.
Supriya Pilgaonkar plays her part of Amitabhs wife fairly well. Tom Alter, Pramod Moutho, Shruti Ulfat and Ali Asgar are OK.
Rajesh Roshans music is average! Once again Roshan proves that he saves his best for brother Rakesh Roshan and the other tunes he churns out are just for money and nothing else. None of the songs leave a impact on the viewer. Infact Bhatt should've done with songs as they hinder with the films pace and makes it inconsistent at times. The Amitabh Bachchan song towards the end of the movie seems forced keeping in sync with Amitabh previous singing sensations in BAGHBAN!
Dialogues by Girish Dhamija are apt and well written.
Technically the film is a sound product too. Pravin Bhatts camerawork is slick and snazzy as always and captures the mood of the film well. Kuldeep Mehans editing is slick for the most. Abbas Ali Moghuls action is expertly picturised....ecspecially the climax which is simply brilliant! A treat for Bachchan fans who get to see Bachchan smashing Ajay to a pulp on one hand in KHAKEE...and Abraham over here in AETBAAR.
All up AETBAAR offers nothing new from the Bhatt camp! The films story has been done before hence offers no novelty..but its the manner in which Vikram has directed the film and the performances from the three principal characters which elevates the film to a huge extent and makes it worth a dekkho for sure! Fans of Amitabh Bachchan will NOT be dissapointed...infact they will be glad they saw the movie considering they also get to see a class act by John Abraham!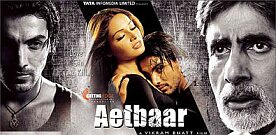 7.5 outta 10