So what does Vikram Bhatt exactly intend to achieve in his career. The maker of some good Bollywood flicks or the maker of the most number of Hollywood remakes?
After copying flicks like WHAT LIES BENEATH, WHOLE NINE YEARS, ON THE WATERFRONT, BODY HEAT etc, this time Vikram Bhatt tries to take a B-grade thriller flick and thinks that it is good enough to make an A grade Bollywood flick??
So this time he ropes in Amitabh Bachchan, John Abraham, Bipasha Basu and tries to do a desi version of the 96 thriller FEAR, one of the early flicks of Mark Wahlberg.
And like all the Vikram Bhatt flicks, this is just another remake that lacks that extra zing to make it reach any heights of cinematic excellence or even for that sakes, great popcorn entertainment.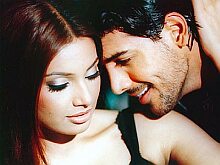 Dr Malhotra (Amitabh Bachchan) is still struggling to get over a fateful accident fifteen years back, that resulted in the loss of his young son. However for the same reason, he holds his family together and close to his heart. And he could not ask for more with his lovely papa's gal Priya (Bipasha Basu) and an equally understanding wife (Priya).
But he has more reasons to worry now, since his daughter has fallen for a young man Aryan (John Abraham) who is obviously all wrong. And despite of being a threat more than a lover, Priya falls for the magnetic personality of Aryan.
Malhotra decides to play the good father and tries to find more about this man that his daughter is dating, And he stumbles on more shocking truths that what he can handle.
Two things that save this movie from completely going into the dumps- Amitabh and Abraham. Obviously watching them both work out the tensions and heating things up is definitely that keeps things afloat.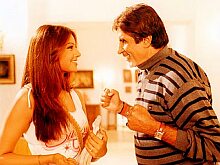 Wonder what drives Vikram Bhatt to take on these kind of subjects...I mean, to begin with the film was a lame one right in the original itself. and moreover, how much more can he give to a story about ' an obsessed lover' angle. I mean DARR scored it all well in the first go itself, and it is hard to see another performance without comparing it to Shah rukh Khan's. So when John Abraham hisses his dialogues like a serpent, we know that we have seen this act before. And this deja-vu is something that the film is burdened with from the first reel onwards.
The film starts off awkardly trying to set up a romance between Priya and the weird Aryan but don't bother asking what on earth did the girl see in him in the first place. Then the film begins to get a little more intense as the father and the lover lock horns over the rights of the lady in question, and gradually moving closer to a violent finale which is a straight copy from any of your average 'hollywood' thriller with the riverside mansion, the boat, the fog and all the other props.
Vikram Bhatt once again fails to improve on the screenplay department and tries to hard to infuse age-old Hollywood-ish look and feel into a Bollywood setting. I mean, the lonely 'FOOTPATH' street sets or the hazy 'RAAZ'y night look are all getting boring now. Atleast can't he give things a new and innovative look.
But first things first, Bipasha as a the goody goody gal is a wrong choice. I guess, Vikram saab should have gone for a more 'naive and innocent' gal rather than this too-hot-to-handle sizzler. It is also one of the reasons why I just couldn't fall for the daddy-daughter concerns. And all the revealing clothes and the frequent disco hanging outs weren't any good for her character either. (But what to do, the original flick had a rave dance setting so can Vikram bhai be far behind??).
Forget show stealers....Amitabh still stands tall. Yeah, he might not be the angry young man, but when this man gets angry he still is in top form. Bachchan does a wonderful job as the father- aggressive, vulnerable, controlled yet helpless, all of them wrapped up perfectly. He was a dynamite in several sequences, especially the ones where he has to remain silent, his face does speak a lot.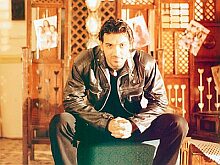 John Abraham does a convincing job as the obsessed lover but I really wanted to see if he could come out as an actor. However I could not find much under all that blood and hair that covered his face and expressions. So Abraham just had to carry on with his 'hunky' persona and then make a 'average bad guy' role into a little bit more interesting.
Bipasha Basu, well, cries a lot and just throws in a lot of ordinary sissy dialogues. Nothing much to be impressed with her this time. Even Supriya Pilgaonkar has been thrown as a silent spectator to the three main players.
Music was pretty average nd thankfully the songs do not cram the movie, but instead takes care to move the story along.
But the confidence in which the makers of AETBAAR pitted the movie against the much-awaited KHAKEE gave me a feeling that the movie might be something different and special. Ah, nothing like that was in store.... a very average flick but a few notch above the Vikram Bhatt level.
But all said and done, AETBAAR is as ordinary as it can get. And save for the performances of Amitabh and John Abraham, the film would have been a big time dud. Not that now the movie is any good, but it still is pretty much watchable- probably when your cable operator is playing it!
But then again, atleast here is a remake, where I wouldn't even recommend the original to anyone!