romance / action
Starring Bobby Deol, Karisma Kapoor, Nasir, Anupam Kher, Rahul Dev
Directed by Inder Kumar
music by Nikhil Vinay
Hard to believe this movie is directed by Inder Kumar- the same man who gave you blockbusters like DIL, BETA, RAJA and even despite all the bad humour ISHQ sill was one of the better movies. Even his last movie MANN was certainly watchable. But AASHIQ is no way close to the kind of movies he is known for.
I mean, his movies always boasted of those cheap brand of humour, not to mention loud. And then you also have some corny songs, and towards the end an overdose of melodrama too. But the bottom line was Inder Kumar's movies were well packaged for the Bollywood industry. But not here, actually never here!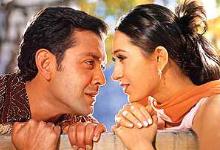 Chander (Bobby Deol) and Pooja (Karisma) are in love with each other. And then what the viewers and lovers get is sweet nothings and romantic numbers. But then the wealthy father of Pooja (Anjan Srivastav) is not interested in getting Pooja married to a comman man like Chandru.
However to make things worse, Bobby's cunning friend (Nasir Khan) takes advantage of the bad situation to trap Pooja and sell her off to a gang of flesh traders (led by Rahul Dev) and you have Pooja locked up in a brothel.
But with Pooja missing, fingers are pointed at Chander and he is framed for the abduction.
So post interval you have Chandru running from the law and at the same time making an attempt to save his love from the clutches of the baddie flesh traders.

The biggest minus point of the movie is the crappy story. Even if you manage to sit through the first half, the second half is purely intolerable. And to top it Bobby Deol is never the kind of actor like the Inder Kumar regulars, Aamir and Anil to pull off a movie like this. Bobby still is desperately trying to be a romantic hero of sorts, but somehow, action is what clicks for him. Because then he need not emote much!
Karisma Kapoor might have had movies like FIZA and ZUBEIDAA, but she definitely has to stay away from such kind of so-called entertainers and love stories. Simply wasted! However Rahul Dev once again does a good job in the role of a baddie and Nassir Khan shows that he is a handy mainstream actor!
And if you think the story, script and screenplay is all amateurish, the songs by Nikhil Vinay are no better. Never the kind of score for a breezy love story!
A bad movie is a bad movie. And not even the name of a director like Inder Kumar can change that. But if this is the kind of movies that such top directors would like to churn out, I say those independent movies like SNIP and HYDERABAD BLUES are much more better!!