Padmalaya Films was once a big banner that specialized in family movies usually with Jeetendra and most of them remakes of southie flicks. And now PADMALAYA is back with yet another family social drama that caters to the low and middle working class sections of the public.
The tale is a social drama about three couples who are not only neighbors but also great friends. The three men (Chandrachur, Vinay and Johny Lever) all work together at an auto garage and somwhow their earnings are never enough to meet thier monthly household expenditure. As a result they end up spending more than they should. Therefore keeping the budget under control becomes the biggest problem.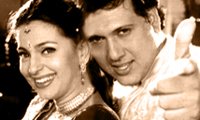 At such a juncture comes a new couple into the society (Govinda and Juhi Chawla). And it is Juhi who suggests the housewives (Tabu, Isha and Ketaki) to take up some jobs to support their family. However when the wives suggest it to their respective husbands, the egoistic and chauvinist men immediately refuses.
But then when all the three men loses their job at the garage, the women take things into their own hands and goes out with jobs of their own. The husbands, though jobless gets furious and tells theirs wives to get out.
And it is upto Govinda and Juhi to get the couples back to their happy ol' life!
All the stars have been handed out badly written roles indeed. None of the performances are worth it, except for that of Johnny Lever and Ketaki Deve. But then also, there is a limit to that too.
And thankfully the movie is saved due to the few moments that we have the talents and comic timings of Govinda and Juhi on screen. But sadly, while the posters have them all over the place, they just have a few minutes to spare for us in here.
The rest of the while we are subjected to some poor jokes and screenplay, and acting too from Chandrachur, Vinay and the rest of the cast. And that also puts in a question as to - what is a National Award winning actress like Tabu doing in a movie like this? I bet, even she would not have an answer.
In short, director Raghuvandra Rao has made a family flick that will neither appeal to the family nor the frontbenchers. The music is quite average though, and looks to be the only silver lining in the list, if you can call it that way!
Bottomline : a flick that can be easily avoided, and that also goes for the Govinda fans too!