So Mahesh Manjrekar has proved that he can deliver the goods. Well, he did strike gold with his Vaastav. Followed it by a superb Astitva but a disappointing Jis Desh Mein Ganga Rahta Hai. The fact that the latter did better than the former is a usual Bollywood mystery though.

Now he is back with his buddy, Sanjay Dutt in a tale of good versus evil and Sanjay once again palys a cop after his superb performance as one in the recent Mission Kashmir.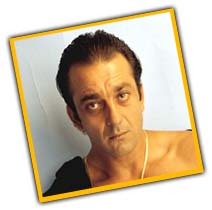 Prithvi Raj (Sanjay) is a honest and daring cop, feared by most of the others due to his tough and hard to crack nature. Prithvi leads a happy family life too with his wife (Mahima) and his sister.
He begins off his campaign on a promising note by pitting himself against a powerful goon Iqbal (Mukesh Rishi). However though his business is destroyed, he ends up being impressed by the honesty and courage of the cop and soon becomes a loyal aide to Prithvi Raj. This relationship is one that reminds viewers of the Amitabh-Pran one in a similar flick, Zanjeer a decade back.

The turning point in Kurkshethra comes when the Chief Minister's son rapes a girl. Prithvi decides to bring justice and so his battle begins with the money, power, and influence of the political leader putting his own life and that of his family members at stake.

Once again a tale where the question is put before the viewers: Will justice prevail?

Kurukshetra might be like one of your typical action drama of the eighties. However it still strikes because it is one of those action movies which relies more on effective dialogues rather than those boring action sequences.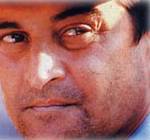 Manjrekar is a talented director and he has given this movie his style of treatment that sets it apart from the rest of the pack. No matter how regular the storyline and subject looks, but it will keep you interested as if you are experiencing the whole thing for the first time.

Manjrekar to begin with, like Astitva, sticks to the main subject and does not go wayward with unnecessary scenes. And he does not make the mistake like the one in Jis Desh Mein Ganga Rehata Hai, that is to stuff in songs here and there. So he rightly ropes in names like Sukhvinder, Kashmira, and Suman Ranganathan to do the songs thus avoiding the lead cast looking silly in dance numbers.

The dialogues are hard hitting and powerful, and had it not been so, the movie would have fallen flat on its face.

Besides the dialogues, the major plus factor of this movie is the cast and their fabulous acting display.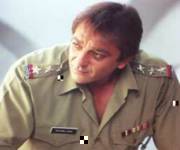 It is nice and refreshing to see Sanjay Dutt on the good side of the law especially after a decade of watching acting him as a ganster. As far as Mahima is concerned, after a series of impressive guset appearances in various movies notably Dhadkan, she finally gets a meaty role here.

Om Puri like usual does a tremendous job in his role as the Chief Minister. Sanjay Dutt and Om Puri compliments each other in such a fine way. And equally cast in an important role is Shivaji Sattam. We also Mukesh Rishi coming in yet another substantial role which he plays well.


Ofcourse the movie also comes with flaws too. The songs are not the charbusting kind and is only just about average. Moreover,being the kind of movie it is, towards the end it takes the predictable route. Therefore the climax might not provide the viewers with anything new. And the screenplay also seems to loosen a bit around this time. Action also tends a get a bit heavy too towards the end. But these things are unavoidable when it comes to churning up a successful action movie.

Music by Himesh Reshammiya is just about average with none of the songs having the chartbuster potential.

However despite the movie being a mishmash of several action movies that we have seen over the times, Kurukshetra will find an audience to appreciate it, especially the front benchers. But the big question is that will it be enough??