reviewed by Jox
This without a doubt is the best film from Bollywood this year...atleast so far. The acting is A grade, dialogues and screenplay equally exciting, and Nagesh Kukunoor's story telling and writing skills is worth an applause. Hats off...Nagesh Kukunoor.
I seriously thought the man had lost it...after making a breakthrough first feature film Hyderabad Blues, that marked the beginning of such 'indie-hinglish flicks' Kukunoor never really managed to follow up that success with Rockford and Bollywood Calling though both were definitely interesting subjects being tackled. But here I have no such complaints for Nagesh Kukunoor delivers it in full style and glory.
The film is basically the story of three prisoners, each with their own worries and smiles. Jagadish (Jackie Shroff) who spends his time in prison with cooking and poetry is actually here because he murdered his wife after finding out about her illegitimate affair. The broken man sees no reason to live and is only happy to take up his punishment.
Nagendar Babu (Nagesh Kukunoor) on the other hand is a man sentenced to death for no reason of his. On a wretched day when he and his wife was having one of those usual fights at a crowded bus stop, someone pushes his wife onto the road and in front of a speeding car, Nagya is held responsible for her death. Knowing very well that he has nothing to do with the murder, he is sure that justice will prevail. But his father in law, a very influential court judge is hell bent on ensuring that Nagya gets the rope.
Last but not least is the latest inter-jail transfer Ishaan Mirza (Naserudin Shah) who is a happy-go-lucky small time crook who hardly seem to be bothered by anything. He is serving sentence for accidentally shooting a pregnant bank teller, while one of his bank robbery attempts go wrong. But Ishaan is sure that he will always find a way to get out of the prison, no matter what.
Their life goes on as usual in the prison until one fine day a journo film maker Chandrika (Juhi Chawla) shows up to make a short film about these three prisoners all sentenced to a death row. As she begins her research, we get to know a lot more about these three inmates, thier motivations, their beliefs and about their crimes. And Chandrika finds it all a good escape from her troubled married life with her assaulting husband.
But will Chandrika be able to help these three in any way? There is certainly more than what meets the eye as far as these three are concerned.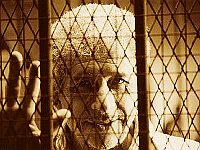 Brilliantly shot and executed, without a doubt 3 DEEWAREIN is a masterpiece. It is certainly one of the most sensible films to have come of late without the pretension of going over the top. It is indeed wonderful to see how much character development Kukunoor manages to draw out from bare minimums. Undoubtedly Kukunoor's best attempt to date.

Didn't I mention that the acting was A- grade?? It certainly is...and it is all led by the veteran Naseruddhin Shah who seems to have got a great role after a pretty long time. A dialogue that Gulshan Grover as the warden hits the nail right on its head - " Keep an eye on him....purana khiladi hai". The veteran smooth sails through the film and shows exactly why he is and why he was an actor to reckon with. All the so called new hearthrobs definitely have a lot to learn from this man- right from emoting to executing. He plays the role of Ishaan brilliantly.

Jackie Shroff is the soft spoken, quiet man who lives in poetry as he silently awaits his death. Shroff plays it real well, and just like in Rangeela, he does say a lot with his expressions without the need for any dialogues.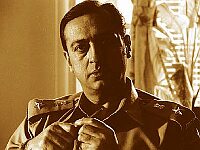 Juhi Chawla comes in with yet another strong performance. And after losing her grip with out and out commercial flicks over the past few years, I think Juhi needs to stick to these kind of off-beat flicks. Earlier we witnessed Jhankaar Beats and now we have Juhi again putting in her best shot with 3 Deewarein. She is always pleasing to watch on screen. Gulshan Grover as the jailor also does a decent job of what was asked of him . Obviously the role wasn't much unlike the other four, but Grover keeps reminding us that he is a talented actor irrespective of all the lame roles he get in Bollywood.
And last but not least, director Nagesh Kukunoor who jumps aboard and tries his hand at acting too. So how does Kukunoor fare as an actor? Quite good, I should say. Kukunoor the writer had written smartly a very good role for himself, that manages to bring out his plus factors while not revealing much of his negative ones. As a result Kukunoor the actor does manage to bring his Nagya character to life.
Technically this film is also Nagesh Kukunoor's best and the jail setting all have been done gracefully. Also for the first time I really liked Salim-Sulaiman for their contribution in the music department. This time it really did go very well with the film and its mood- especially a couple of flute melodies.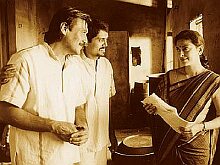 But wait the film had its share of flaws too? And for me it was the most important part of the whole film- the climax. Kukunoor does try to put in a very clever twist in the film, but wasn't it a little too clever. I found the ending smart, but then again a lot forced into the film. It somehow stands loudly apart from everything we were watching so far in this flick. While everything else about the film just managed to gel in smoothly with the narrative, I cannot say the same thing about the ending.
But thankfully, for me, it wasn't all about whether I was going to buy in for that climax and twist of events. Because I had already got my worth by the time I reached there, whatever followed was just a bonus as far as I was concerned.
These are the kind of movies that Bollywood should try to make....these are the kind of movies that audiences should try to appreciate. But going by the response this film got at the box office, I don't think that is going to happen any time soon.
But do try to take a look at 3 DEEWAREIN after all the Hrithik-Salman-Vivek hype settles down, because this is the only MUST WATCH movie from Bollywood so far in 2003. Some people call it "off-beat", some "arty" but this my folks, is quality cinema at its BEST!