Nagesh Kukunoor is one of the most explosive and intelligent film makers to enter Bollywood in recent years. After watching 3 DEEWAREIN he cements his longstay in Bollywood regardless of the commercial outcome of his films. 3 WALLS is one of the most intelligent, thought provoking and well acted films that one has witnessed in recent years.
The film tells the story of 3 inmates who have all been sentenced the death penalty. All three have been charged of cold blooded murder.
Jagdish Prasad aka Jaggu (Jackie Shroff) was a lawyer who has been charged guilty of murdering his wife. He admits to his crime and looks forward to his death sentence. He wants to die as he feels that he deserves it in order for justice to be served.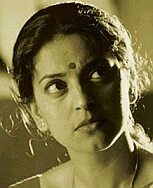 Ishaan Mirza (Nasseridian Shah) was a small time crook who during a bank robbery accidentially kills a pregnant bank teller. As he was exiting he trips over someones foot and fires the gun. He is a happy-go-lucky sort who is always looking to run away and make a quick exit "patli gali".
Musooniri Nagender Babu aka Nagya (Nagesh Kukunoor) was stuck in a unhappy marriage. One day while arguing at the crossing his wife gets pushed in front of a car and dies a horrific death. He had no part in her death at all yet due to his wifes father who is a judge hell bent on making sure that he is hanged till death no matter what. Nagya is a optimist who feels that justice will be day be served and he will be let off...
Along comes Chandrika (Juhi Chawla)-a small time film maker who wants to make a short film about prisoners and prison life hence starts researching the three death row prisoners....
Slowly she wins their trust and and finds out exact details about their crimes, what led to crimes and whether they feel any remorse or not. Chandrika herself has a troubled life with a cruel husband who physically assaults her since he is unsuccessful in bed.
As the movie nears the end we find out there is more than meets the eye to each of the prisoners story and even to Chandrika. The plot twists that follow form the crux of the story.
The basic premise of the movie has a few similarities to Frank Darabonts SHAWSHANK REDEMPTION but 3 DEEWAREIN is a completely different and 100% orignal film apart from this minor similarity.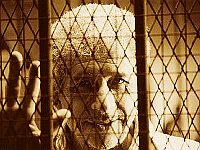 The story written by Nagesh Kukunoor is excellent. Right from start to end each and every scene has been thought out and the film flows like a dream. The latter half of the movie and how it all connects up show that Kukunoor is a FANTASTIC writer who knows exactly what he is doing.

As a director this has to be Nageshs best film to date. He takes strides as a director and emerges victorious. Be it the mood and atmosphere of the movie, the well etched put characters, the "real" and fleshed out performances or the well directed smooth pace the film flows....Kukunoor proves that he is one H U G E asset to Bollywood.

The performances of the movie prove to be the mainstay.

Jackie Shroff is at his best as Jaggu. His poetry and dialogues are superb and this has to be his best performance in recent times. His pain, anger, remorse are all expressed with his eyes, Jackie was the ideal choice for the role.

Juhi Chawla is also at her best with what can be considered a career turning performance. Her last stint in JHANKAAR BEATS was also good, but here she is just amazing. As Chandrika she is flawless in a de glamourised role and proves that she is one of the best actresses we have in indian cinema today. Her interaction scenes with the prisoners are eye opening.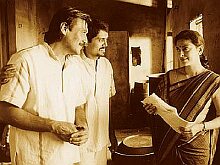 Nagesh Kukunoor as Nagya gives a performance which is bound to lap up all the supporting awards this year and he deserves too. Apart from being a smart and intelligent writer/director Nagesh is also one powerhouse of talent. He is convincing in his role and fleshes out his character and brings it to life. His chemistry shared with Jackie Shroff is touching and really feels for his character.

The real star of the show is no doubt Nasseridian Shah! This film shows why Nasseridian Shah is one of the BEST actor that we have in Indian Cinema today. If the younger generation hasn't witnessed some of his older films, they will see what he is all about here. As Ishaan -Shah gets sinks his teeth right into the character and comes out with a remarkable performance. Each dialogue, facial expression and expression of the eye is simply stunning. The character of Ishaan is extremely complex and only an actor of Shahs calibre can pull it off with the right amount of charm. Hats off to Mr Shah.

The supporting cast are all in top form. Gulshan Grover is ace as a custodian. Every now and then he springs a surprise with a sensible performance and shows that he is indeed a extremely talented actor, check him out in EARTH and BAWANDAR and you will see what i mean.

Vallabh Vyas, Sujata Mehta and Aditya Lakhia all perform their roles with conviction.

Some scenes in the movie deserves a special mention and will linger in the memory of the viewer.

* The opening sequences with Jaggus poetry

* The sequence where Chandrika initially question them all and the frame cuts between all three of them as they speak about their crimes...one of the BEST canned sequences in recent years.

* Each and every scene where Chandrika and Ishaan share the frame, their chemistry crackles.

*The entire last half hour of the movie which has twists and turns in abundance and the upbeat climax which leaves the viewer believing in something called HOPE.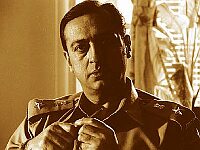 Technically the film is flawless. This has to be Kukunoors biggest film to date and he hasnt wasted the money on flash locales or anything, rather he has given his film the right ambience and atmosphere and made the film looks extrenely realistic. The sets of the jail, the thicks walls of the jail and the cells are all extremely well created.
Ajayan Vincents cinematography is spellbinding and award worthy as with Sanjid Dattas editing. The effect of using different color frames for different shades of the story works well and having the flashbacks in black and white has the desired impact.
Salim Suleimans background score after BHOOT and DARNA MANAA HAI is once again astonishing.
So what are the flaws? I found HARDLY any apart from a few small scenes which i found repetitive but even they were justified later. Its sad that a film like this will not be accepted by our audience and only a select section of the audience will watch it, while the rest will dismiss the movie as a "offbeat" venture when it is indeed entertaining and enlightening all at once.
3 DEEWAREIN is one of the BEST films to come out in recent years so do your intelligence a favour and buy the DVD instantly since it is one to add to your collection and cherished over years.
9.5 outta 10