Shahrukh Khan and Juhi Chawla teams up again after their forgettable PHIR BHI DIL HAI HINDUSTANI.....for their next movie, this time however not their home production. Thank god for that!
And for a change, we won't have Shahrukh in the melodramatic lover boy image. Thank God for that too!
But one wonders how much the MI2 style posters and covers are gonna help Shahrukh's cause.
For in K. ShashiLal Nair's directorial venture ONE TWO KA FOUR, Shahrukh plays a cop for the first time in his career. And Juhi Chawla and Jackie Shroff shall keep him company while he does so.
Shahrukh plays Ajay while Jackie plays Javed with both being cops dealing with drug trafficking and their main target is a drug lord KKV (Nirmal Pandey). But even when these two do finally arrest him, he still manages to walk away a free man from the court.
Now Javed has four bratty kids, motherless. And they are the most precious things in Javed's life. However to his hot-headed partner Ajay, these kids are the most irritating things on earth.
However when several things begins to go wrong, Javed begins to sense that someone from his department is a spy who is helping the baddies. Tragically later, Javed gets killed by this mysterious traitor from his own team, leaving a bereaved Ajay to take care of these orphaned kids. But they dislike him and keeps away from him at all costs. So to strike a chord with the kids, he has to seek the help of a friend of Javed, Geeta (Juhi Chawla).
However Geeta not only wins the hearts of the kids but also of angry young Ajay.
And one fine day, when Ajay follows baddie KKV to a nightclub, he sees a club dancer who looks so much like Geeta. who turns out to be none other than Geeta. A furious Ajay rushes back home and confronts Geeta, but she swears that she was home all the while and even the kids stand by her.
So now it is upto Ajay to find who exactly was that Geeta lookalike, and moreover which all officers in the department are corrupt and helping KKV.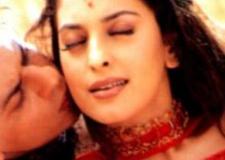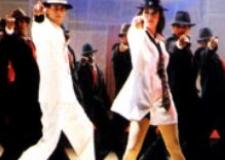 The kids have been certainly put in this movie, to make it more of a family entertainer, but literally serves no major purpose except deviate from the main track. And then with the Shahrukh-Juhi romance taking off only late in the movie, again it is more of a deviation.
And as far as the main storyline is concerned, it is as predictable as it can get. Everyone can easily guess where the movie is heading to, and each and every twist in the movie can be foretold. Thus it fails to invoke any excitement in the viewers whatsoever.

Good action shots, great music and an equally impressive picturisation and camera work are all there to help the movie's cause. But none of this technical aspects can replace the fact that it has a weak storyline and an equally weak script.
Jackie does manage to breeze through his short role, while Shahrukh looks out of place in his role as a cop. He has been portrayed as an over aggressive cop and certainly the director has not molded his role the way it should be. But if there is a performance that is worth watching in this movie, then that has to be Juhi. Her comic performance of this Haryanvi chokri who sings Ricky Martin and Daler pops, swears by Kapil Dev, and is as roman-chic as she can get. A wonderful portrayal from Juhi in what seems to one of her last roles in Bollywood.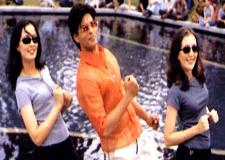 There is nothing in this for other cast members whatsoever. Nirmal Pandey's role as KKV is too loony to be taken seriously. With the main villain being more loony than scary, there is no way it can capture the interest of the viewers.
Even though the script is absolutely a lost case, what is even surprising is that Sanjay Chhel's dialogues too fails to create the required impact. He had delivered better work in the last Shahrukh-Juhi teamup YES BOSS!
Rahman's top grade music score has been wasted on a movie like this, and with the non-show of the movie, the soundtrack too would be sinking without a trace.
Sadly, like I said, top stars, top music, top technical aspects, and yet...a film that shall flop miserably. Director K.ShashiLal Nair certainly seems to be least interested in making this movie, and seems to have let the stars do whatever they like with the script according to their personal choices. Or so it seems!
A pretty much avoidable fare!!!