MOHABBATEIN CREATES RECORDS AT U.K.
MOHABBATEIN has managed to register ground breaking collections in its opening weekend and managing to find a place in the UK top 10. The collections is already the best ever opening by an indian movie at UK.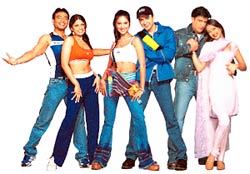 The first Indian movie to crack the UK top 10 in recent times was Dil Se, which too was a Shahrukh starrer.

RAJSHRI DENIES REPORTS THAT SALMAN IS DROPPED FROM THEIR NEXT

The Rajshris, or in other words Barjatyas, were always known to have a close tie with Salman Khan. For it was Salman who was regularly featured in all of their last three big movies, Maine Pyar Kiya, Hum Aapke Hain Kaun and Hum Saath Saath Hain.

But it came as a big surprise to hear that Salman will not be signed for their next movie, Main Deewane Tere Prem Ka. Instead the current heart throb Hrithik Roshan, will be taking over.
However Rajshris have said that they are still working on the script and have not finalized the casting as yet.



HRITHIK WALKS OUT - ABISHEK INSTEAD!

Is the Shahrukh-Hrithik rivalry still on or has it been well resolved?
No one will know for sure. But more doubts will be cast on everyone's mind. why?
Because Hrithik has reportedly walked out of the Farah Khan's debut movie which also stars the Khan. Though both are supposedly close to Farah Khan, no exact reason has been given as to why it happened.
Abishek Bhachan is now roped in to take Hrithik's place in this movie.



AJIT TO HIT BOLLYWOOD

Finally tamil star Ajit will break into mainstream Bollywood, that too in a high profile venutre. The movie is none other that Santosh Sivan's ASHOKA where Ajit will rub shoulders with superstar Shahrukh himself.
Well, Ajit already won the hearts of viewers up north in the recently released KANDUKONDEIN KANDUKONDEIN. And down south everyone knows his potentials alright. But will Ajit manage to make a mark for himself. Time will tell!


TOP ACTORS TURN TO DIRECTION
Naseerudin Shah have impressed the moviegoers with his various portrayals. Now he decides to try his hand at directing a movie. The movie shall be ONCE A MAHATMA and will be made in English and Hindi. The film is based on a Chandulal B. Dalal novel.
Nasserudin shall also act in the movie as Mahatma Gandhi, a dream role he had earlier played in Kamal Hassan's HEY RAM. But he decides to do the role this time better than his previous outing.

Rahul Bose shall also come out with a movie directed by him, titled
EVERYBODY SAYS I'M FINE. Zakher Hussain has been roped in to give the music and the movie shall feature Pooja Bhatt, Rehan Engineer besides Bose himself.

Anupam Kher has also been bitten by the DIRECTOR bug. He too shall give it a try in Vashu Bhagnani's next production. Talks are still on.
Atul Agnihotri might not have had a good run as an actor. Now he will take to the director's seat in the Salman khan home production movie which stars Salman and Aishwarya in the lead roles.


ActressRevathi is also planning to direct a movie, this one however to be in English, telling the story of a couple in the US. This yet untitled film shall have Shobana playing the role of the wife.






AMBEDKAR FINALLY SCHEDULED TO RELEASE

Dr.Ambedkar to release all over India on December 1. The movie was already in the news a year back when Malayalam superstar Mammooty bagged the best actor national award for his portrayal of Ambedkar in this Jabbar Patel;s English movie.

ASHA BHOSLE AWARDED

Asha Bhosle was awarded the prestigious Lata Mangeshkar Award by the Maharashtra Government for her outstanding contribution to music.


NEELAM WEDS AMIDST CONTROVERSY

Film actress Neelan recently married London-based businessman, Rishi Sethia in Bangkok. Incidentally, Rishi's family was against this marriage and his entire family reportedly refused to be a part of the wedding.


Write in and tell us what you think