It was a moment of joy, followed by ample reason for a celebration for not only those in the film industry, but all moviegoers alike when it was announced that Aamir Khan's maiden venture LAGAAN was one of the final 5 movies that will be battling it out for the Best Foreign Film at the Oscars.
And by doing so, LAGAAN becomes the third Indian movie to do so. 1957 saw Mehboob Khan's Mother India and in 1988, Mira Nair's Salaam Bombay managing to reach such heights.
The other big 1982 showstealer, Gandhi was however a Indo-British co-production and there is not considered in the earlier mentioned category.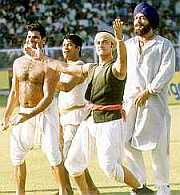 What started as a risky venture, which even made Aamir think twice has now not only turned into a superhit across the Indian audiences worldwide, but also went on to prove that if film makers think daringly different, it will reap benefits and global recognition.
But the going was not that easy. Lagaan was literally overshadowed at most of the awards by other movies, and no one has to date taken the movie that seriously. And Lagaan was a movie that was over-shadowed by Mira Nair's Golden Lion winner Monsoon Wedding at big festivals like Toronto.
"I am overwhelmed to hear it and hope that we shall make it to the finals. Since the last two months we were trying to reach the finals and we have at last succeeded," the actor said.

Asked how much money had been spent on showcasing the film abroad, the actor said, "We spent money only on advertisements in trade papers of foreign countries" to tell the world that this film was India's official entry in the foreign language category. This is all!
- Aamir's initial reaction
"It's great. It's incredible. I'm so happy that we got the nomination. It'll help us Indians make a mark on the world map."
- Ashutosh Gowarikar
I was extremely happy. After seeing the film, I came out and told Aamir and Gowarikar to ensure that the film should be made the official entry to the Oscars. If any Hindi film stood a chance, it was Lagaan. I was convinced that if they pursued their efforts would bear fruit.
- Javed Akhtar
I was absolutely excited when a media informed me and couldn't believe it. Then I got a call from Aamir and the entire team was invited to his house where we partied till late. This is my first film which has got recognition worldwide and I can't stop thanking God.
- Gracy Singh
However the competition isn't going to be easy.
The French film Amelie and the Bosnian war comedy No Man's Land are serious contenders for the award. Amelie have already grossed about $ 25 million to date just in the US alone with a whooping $200 million worldwide, and even cracked into the US Box office Top Ten. Amelie have also won three other nominations in the main categories - Screenplay, Art Direction & Sound.
But now that Lagaan has got the nod, the movie will be re-released and this time the movie will be mainly targeted at the non-Indian audiences. And hopefully, the more of them watch the film and realise the potential, the chances of Lagaan actually winning one of that gold statuettes would be stronger and brighter.
But now it is a battle of the promoters. About 50 million dollars is being pumped into advertising alone by the top film companies, all just for the 400 dollar statuette.
For most back in India, Aamir must have done them proud, but for Aamir, the battle has just began.....!
MoviemagiK and all Indian movies lovers wish the team of Lagaan - Best of Luck!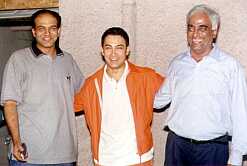 Ashutosh Gowarikar, Aamir Khan and Jhamu Sugandh